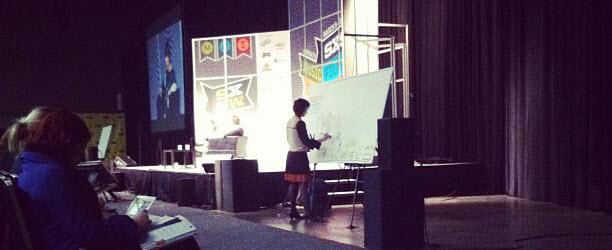 Outside of the latest news that CNN is in talks to acquire Mashable, the biggest buzz throughout the course of the week so far at South by Southwest has been about social discovery and the next generation of location-based applications.
Specifically, the app that has everyone talking down in Austin is Highlight, which aims to change how people meet and discover new things by alerting users when they are physically near people with whom they share a connection with (i.e. mutual friends, hometown, hobbies, etc.).
While, to date, location-based applications have mainly been nice-to-haves for marketers, it seems like there has been a transformation in the thinking of these apps that will bring more value to local businesses outside of check-ins and rewards.
Helping consumers make better decisions
Foursquare CEO Dennis Crowley talked about this transformation during a Q+A session with venture capitalist and TechCrunch reporter MG Siegler at the Austin Convention Center on Friday.
Crowley said he believes that people should be able to walk around the world and get great information, whether it be alerting you that someone from your hometown 1,500 miles away is at the airport with you in Boston, or notifying you that your best friend loves the mint chocolate c hip ice cream at the store you just walked by on Main St.
Jeff Jordan of the Silicon Valley VC firm Andreseen Horowitz, and former CEO of OpenTable, echoed Crowley's vision during a panel on Saturday. He believes that social discovery is the future of social media, and that location-based applications and maps should help consumers make better decisions and discover new things.
What does it mean for marketers?
This is all great news for marketers, especially as companies like Foursquare and Highlight find out how to best sort through and serve up their data.
These applications have the potential to be great tools for both lead generation and customer retention, especially for local merchants. Imagine being able to identify super-loyal customers who used to check-in all the time at your store but don't anymore, and then be able to target them with an email offering a $10 coupon to get them back in your store?
It will certainly be interesting to see how this trend plays out over the next year.
What do you think about social discovery? Would you ever take advantage of location-based technologies like Foursquare or Highlight? Share your thoughts with us in the comments section below.