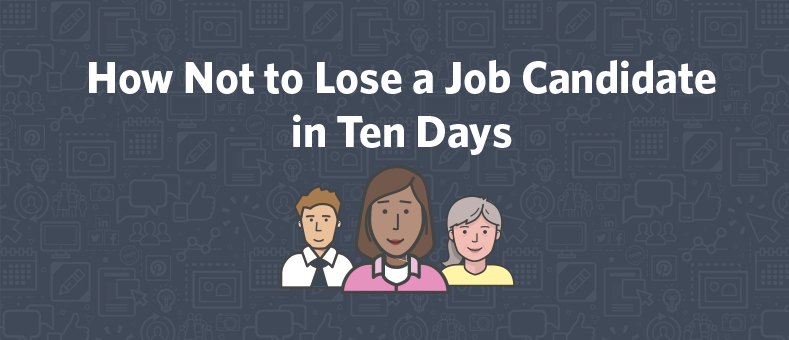 As a business owner, you know how hard it can be to bounce back from one bad customer experience.
No matter how many great experiences you offer on a daily basis, it's that one negative interaction that a customer remembers the most.
It's also the experience they're most likely to share on social media or a review site.
You can't be perfect all the time, but encouraging positive word-of-mouth means going above and beyond whenever you can — whether you're helping a customer or interviewing a job candidate, you want the people who interact with your business to walk away feeling like they had a great experience with you.
After all, it only takes one negative interaction to lose a candidate during the interview process.
Your candidates are also your customers, either existing or potential. Not only that, they also have networks of their own and the ability to broadcast their negative interaction with your company and your brand across multiple media platforms.
They're sharing their ideas with other potential or existing candidates, other potential or existing customers. Both, which you know, can be difficult to get in the first place.
What can you do to make sure you don't lose a candidate throughout the interview process? And what can you do to make sure you don't lose their patronage even if things don't work out?
Here are a couple tips to keep in mind:
Avoid the dark hole of communication.
Wearing multiple hats to keep your business running can take a lot. Sometimes things get pushed back so priority items can be handled.
While following up with a job candidate might not be at the top of your priority list, consider what type of message this is giving your candidate.
Lack of communication is rarely intentional, but staying on top of it and delivering on your promises is important to showing candidates that they matter to your business.
Here are some quick tips to overcome bad communication behavior:
Make sure your timelines are feasible for yourself. Don't set a date if you don't think you can stick to it. Even if things change unexpectedly, keep candidates updated so they know where they stand.
Create an unavoidable, crystal clear to-do list. Write down voicemail messages and/or flag emails in your inbox to remind yourself to respond by a certain date. Make sure they are front and center on your to-do list.
On the rare occasion that you don't make your deadline, be courteous and apologize when you are not able to meet the expected date. Also, be prepared to give a reason, "Apologies for my delayed reply, I was unexpectedly out-of-the-office."
 Combatting the "it's you, not me" conversation.
"Congratulations. I'm so excited to have you on my team!" Who doesn't enjoy this part of the interview selection process? Unfortunately, the fantastic feeling you get once you've found that right-fit candidate and they feel the same about your company can suddenly escape with the knowledge that an unpleasant or uncomfortable conversation is on the horizon with the candidate(s) who weren't selected.
Beyond the awkwardness of the conversation, you always run the risk that a rejected candidate could sue you for discrimination. Luckily, there are ways to protect yourself all while preserving a strong candidate experience and brand.
Think of the conversation with a candidate as the same conversation you'd have with an upset customer. You should be delicate, but to the point, and never make it personal. A good rule of thumb is to stick with what can't be debated.
It's always best to have a conversation over the phone when possible, but an email or a written letter is a great alternative.
Tips on what to say after, "It was a pleasure to meet you, but—"
You can play it safe by being vague: "I have decided to move forward with a candidate who more closely matches my immediate need."
Or you can get a little more specific: "Although you have a fantastic background and we really connected, in the end I decided that I need a candidate with more proficient Excel skills."
If you do decide to give more specific feedback, be conscious of what you are sharing. If needed, contact legal help to identify what you can and cannot say. Or get some advice from resources like SHRM.
Whatever you do, always show appreciation for the time someone took out of their day to meet you. A great candidate experience will always translate to a promotion of your brand.
Looking for more hiring advice? Here's Why Small Businesses Need to Deliver a Great Interview Experience and How to Do it.
Looking for a job yourself? Hop over to Constant Contact's Careers Page to see what we have available.