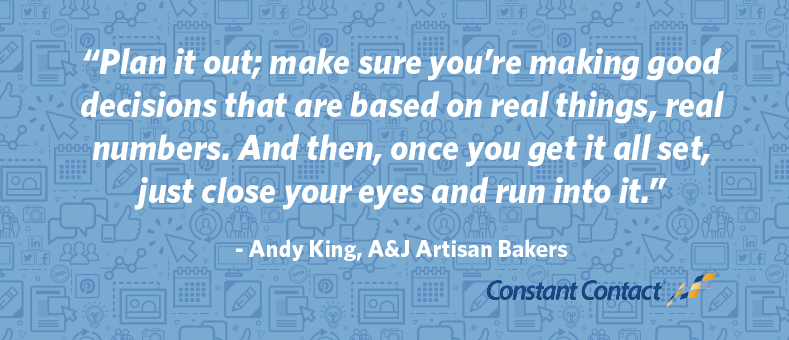 It has been such an honor to talk with the small business owners in the first season of our new podcast series, Small Biz Stories.
Our inspiration for starting this podcast has been to share the stories of small business owners so those of you with similar goals, challenges, and dreams can learn from each other — whether you're just getting started or thinking about taking your next big leap.
We think the podcast is the perfect format to bring these stories and their lessons to you.
You can listen during your commute, at the office, or while going for a walk. You don't need to carve out time from your busy schedule to physically go somewhere or stop what you're doing entirely.
By subscribing to the podcast, you can easily keep track of when new episodes are released and listen when it's convenient for you.
I hope you enjoy it and learn a lot. I know I have.
Here are some lessons I learned from our first guests, Andy and Jackie King, co-owners of A&J King Artisan Bakers, in historical Salem, Massachusetts.
1. You're not as alone as you think.
"Where do you go for advice? Sometimes you feel all alone, 'No one will understand, I don't even know where to begin to explain it.'"  — Jackie King
As both Andy and Jackie have found, it's actually helpful to share stories with other businesses and people in your industry. And after listening to these stories I'm convinced you'll be nodding your head in agreement many times throughout.
There are people out there that do understand what you're going through. Sometimes it just feels good to share your horror stories, but often other businesses have been in similar dilemmas and can provide advice for getting through.
You don't have to go it alone. There are plenty of places to turn for help and guidance. Constant Contact offers plenty of email marketing resources and guidance on other topics both online and offline. In addition, there are also places you can go for help in your local community. Find local small business resources available to you.
2. Starting a business is stressful, but don't let that stop you.
"Plan it out; make sure you're making good decisions that are based on real things, real numbers. And then, once you get it all set, just close your eyes and run into it." — Andy King
Running a small business is a lot like raising children — you can prepare as much as you'd like but you never really know what challenges you'll need to face.
Do your prep work and then just go for it.
3. Take pride in what you do and enjoy it.
"Have a real love of what you're creating. Because if, at the very least, you have to fall back on just doing that every day, you should be satisfied with that, at least for the first five years or so." — Andy King
You will struggle. But if you believe in what you're doing and it brings you enjoyment, you'll be able to weather the storms where others would give up.
You'll also be more enjoyable to be around. And you're going to need a support system around you.
4. You'll be figuring it out as you go.
"We've continued that pattern of, 'We don't know how to do this. Well, I guess we're learning'. Sometimes we learn the wrong way for a while and we have to reset our standards for whatever it is." — Jackie King
Give yourself permission to figure things out as you go. Look at every new challenge as an opportunity to learn.
Always reflect back to figure out what you can do better and more efficiently in the future. That's how you'll reach those goals you've set for your business.
5. Know what you really want to get out of your business.
"Everyone knows small business owners who get burnt out. Not to say that we don't get burnt out. Part of our compensation package, basically what we get out of the business, was that we wanted to live somewhat normal lives after a certain amount of time." — Andy King
Know what's really important for you. For Andy and Jackie it was being able to spend time with their family and friends. Perhaps you feel the same.
Whatever your goals are be honest with yourself about whether or not you're on the right path. Give yourself permission to reassess your trajectory and make adjustments as necessary.
6. Hiring the right people is critical to your success.
"You can't teach people to be good people and you can't teach them to be responsible, so don't try. So if you think they stink in the interview or you have a bad feeling and it's related to either one of those things, do not hire them because you cannot teach it out of them."  — Jackie King
Don't take the hiring process lightly. You need to be diligent in your efforts when adding new people to your team. Make sure they're the right fit for your business on the front end to save yourself potential headaches in the future. Trust your gut and avoid common hiring mistakes.
7. You need systems of rules and regulations when dealing with employees.
"One of the things that we had to learn how to do is to set up systems on which the bakery runs, and then defend the system. Systems of rules and regulations that you can point to so it doesn't seem like you're just making decisions every time one question comes up." — Andy King
Everyone who works for your business needs to be on the same page. Your employees will thrive with a foundational structure and consistency. You'll also be in a better position to defend your decisions when you have documented policies in place.
8. Build a business that can run without you.
"That's what we've tried to do. And we've gone away for week stretches, we just went to Costa Rica for a week, and so that was nice. But the bakery is running, that's always a good sign. People are like, "Well, how is the bakery doing?" I'm like, "I don't know, I have no idea. My managers are running it."  — Andy King
If your business relies on you to run properly, you'll always be stuck a certain level. What happens if you're sick? What if you need or want to take time off?
Many business owners find it difficult to take time off from their business, but to create something sustainable you should build your business with an eye towards how it can run without you.
What about you?
Are there any lessons you'd like to share with other small businesses? What resonated with you most from Andy and Jackie's story? Let us know in the comments below.
If you haven't already, you can listen to the first episode of Small Biz Stories here. Be sure to subscribe to the podcast so you never miss an episode. And leave a review to let us know what you think!