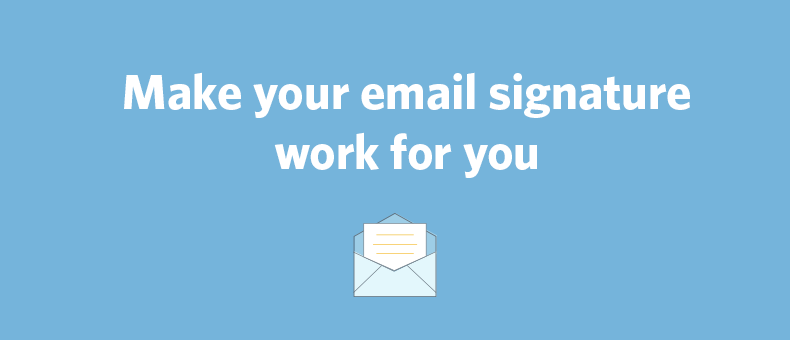 Editor's note: This post comes from our Constant Contact UK office. You can view all the posts from our UK team here. Or connect with us on Facebook and Twitter.
About 80% of people reading this article use an email signature, but only 5% of those people will use it as a marketing tool. This means that if you can create an email signature that actively helps you  market your business, you will be stealing a march on your competitors in one easy step.
Just think – your signature goes at the bottom of each and every email that you send out, so getting this right would give you a lot of extra impact, instantly.
Use your email signature to increase sales.
A normal email signature looks something like this:
Tamsin Fox-Davies
Marketing Mentor
Constant Contact UK
email: tamsinctct
tel: 0207 297 2382
Maybe you will also have included a  logo and a web address if you're thinking ahead.
As it's likely that the person you're already emailing has your phone number, and they can get your email address by reading the "from" field at the top of the email, this standard signature doesn't really give a lot of extra information.
So what else should your email signature include?
As an example, here's what one of my email signatures looks like:
Here's why this signature works as a marketing tool:
All my basic contact info is there, in case it's needed (including my mobile number).
There are links to my 3 main social media profiles as I make a point of connecting through Facebook, Twitter & Linkedin, and this is one of my key communication channels.
There's an invitation to get something for free (my weekly newsletter), and I tell people specifically what to expect ( free weekly marketing tip ) and how they can get it (click here ).
My next event is listed with a booking link and an event summary (this bit changes regularly).
So, even if the person reading the email doesn't take any action straight away, they will know that:
I welcome communication through multiple channels.
I am active in social media.
I walk my talk and give away free marketing info every week, which also means I'm a prolific creator.
That I run a range of events, so I am a versatile and experienced trainer.
Not bad for one little email signature, is it?
However, there's more to come…
You could add any of the following items to your email signature for extra marketing impact:
Include one or more client testimonials.
Links to your latest press cuttings.
Direct people to your blog for your latest news and comments.
Promote a special offer.
Let people know that you're recruiting.
Tell folks about the award you just entered, and request their vote.
Tell them about the award you just won.
Direct readers to your portfolio or client case studies.
Include a list of your highest profile clients.
Send them to your youtube page
Make a request for survey responses
There's a whole lot more that could go in this list, depending on your business model and the industry  in which you operate, but the intention is always the same – get people to notice more of the great things that you do and the results that you produce for people.
In this way, your potential customers will get an extra peek at how fabulous you are, and be more likely to choose your products and services, AND recommend you to others. It's all about building up the 'know, like and trust' factor, and you can move this forward in one easy step.
So, get going with your new email signature now, and remember to add it to all your outgoing emails.