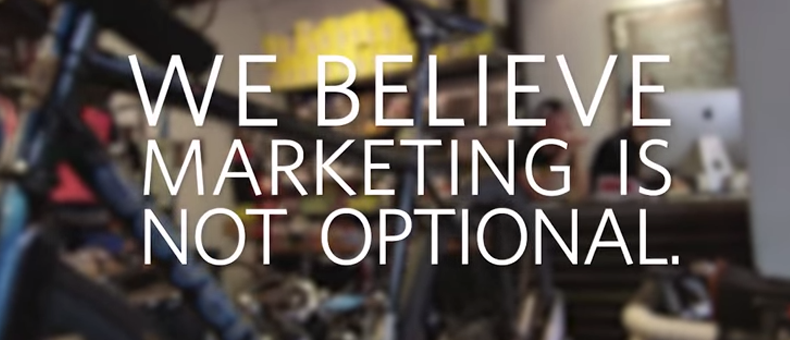 Editor's Note: Here at Constant Contact, helping small businesses succeed is the motivation behind everything we do. We believe small businesses have a real advantage and we're committed to your success. As part of our commitment to you, we created The Promise. This year we're taking a closer look at what this promise really means, and providing advice to set your business up for success. The following is the latest post in The Promise series.
While some small business owners love marketing and others would prefer to do anything but marketing, the reality is you need to get the word out about your business.
If you don't, you risk being among the 50 percent of small businesses that fail within their first five years.
For that reason alone, marketing shouldn't be something you consider optional.
But that doesn't mean it has to be time consuming or expensive.
Use the tips in this post to stay on the right side of that 50 percent statistic.
You're marketing every day… but perhaps didn't know it
It used to be that when small businesses thought about marketing, they associated it with advertising in local papers or the Yellow Pages. Today, marketing is defined in much broader terms.
When you engage customers on a one-on-one basis and freely share your expertise, you build credibility and trust. Simple gestures such as a friendly greeting or making product recommendations based on the customer's specific needs ­— not the highest priced item on the shelf — make a lasting impression. And when you ask customers for feedback, you demonstrate your commitment to providing a great customer experience.
It's likely that you're already doing these things on a regular basis. You don't consider them optional because they're part of how you run your business. What you may not realize is that all of these actions are considered marketing and when combined, they attract customers, motivate them to return, and inspire them to tell their friends about you.
That's what marketing is all about today.
It starts with identifying your most active customers and building upon those strong relationships by providing great customer experiences. To stay top of mind, you'll want to trigger the memory of those experiences by continuing the conversation online.
The two most effective ways to do this are email and social media.
The Easiest Way to Attract, Engage, and Retain Customers
While using email and social media channels to attract and retain customers may sound like a lot to take on, this easy five-step process contains everything you need to be successful.
1. Ask for permission.
Before you add a name to your contact list, ask the customer for permission. If you let them know the benefits of subscribing, such as insider deals and free expert insight, they're more likely to sign up and look forward to hearing from you.
2. Be where your customers are.
Identify the two social media channels where your customers are most active. By understanding what's important to them, you can tailor your marketing efforts to reflect those specific interests.
3. Provide valuable content.
Many small businesses are built around the owner's passion for what they do. Your enthusiasm is contagious and your expertise is of high value. When you apply this to your online marketing efforts, it shows why you're the better option and enables you to amplify your message to a wider audience.
4. Engage your customers.
Engage customers using genuine dialog, not overt selling. For example, when you write your newsletter, balance the content so that 80 percent is relevant information and only 20 is promotional. The same applies on social media, 80 percent of your posts should be focused on sharing tips, reposting content from others (while giving them credit), and joining the conversation. You can use the remaining 20 percent to promote your business directly.
5. Track your progress.
Are customers reading your emails? Which articles from your newsletter were most read and shared? Are your social media followers engaging with your posts? If they redeemed your latest offer, did they forward it to a friend or share feedback on Yelp? The more you understand about your audience and your progress, the stronger your marketing results will be.
When you first heard that marketing is not optional, it likely struck a chord and possibly caused some of you to twinge.
Now that you know you're already doing it to some degree, you realize it's not that scary. And it's fun to build upon the goodwill you've established with customers by connecting with them between visits. That's how you create a sustainable marketing engine that drives repeat business and referrals without being complicated or expensive.
As the definition of marketing continues to broaden and there are even more ways to engage customers in person and online, we'll continue to be here for you. Offering free advice, providing one-on-one support, listening to your feedback, and constantly improving our platform to ensure that every customer interaction you have is a success.
We promise.
Get started! Check out the video below for a quick tip you can put to work today. 

(Can't see the video? View it here.)