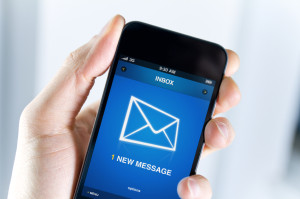 These days, you don't have to travel far to realize that mobile activity has reached an all-time high.
Whether you're in the office, out to lunch, or just walking down the street, it's tough to find a place where people aren't glued to their smartphones or tablets. (You may even be reading this on a mobile device right now.)
But what are all those mobile users doing? New data compiled by eMarketer this week shows that email is now the top activity for mobile users, with 23% of the time spent on mobile dedicated to checking email.
Speaking of mobile, Facebook Pages for mobile got a design this week and LinkedIn is rolling out a brand new app.
Read about this top stories and more in this week's marketing news roundup.
According to a new report from Experian Marketing Services, email is the most popular activity for people on their mobile devices. The recent survey found that mobile users are now investing 23% of their time on mobile to email, followed by social networking (14.9%), entertainment (13%), and online shopping (10.8%).
The top online activity for desktops was social media, at 27%. Email accounts for just 5% of desktop activity, behind entertainment (15%), online shopping (9%), and business activities (5%).
Bottom Line: Today,43% of all emails are being opened on a mobile device. This is giving marketers more opportunities to reach their target audience, but is also coming with new expectations from an increasingly mobile audience.
In a recent survey from Marketing Sherpa, 58% of marketers agreed that mobile will have a major impact on their email marketing in the next 12 months. The good news for you, is that there are plenty of things you can be doing right now to meet the needs of your mobile readers.
Here are 5 simple tips for designing mobile-friendly emails.
LinkedIn announced Contacts this week, a new app to help users stay in touch with their most important contacts from their desktop or iPhone.
It is the first LinkedIn product to launch simultaneously on desktop and mobile, and offers users the capability to bring together contact information spread across address books, email accounts, and calendar apps.
The app also comes with a relationship module that includes recent conversations, meetings, and personal notes.
(NOTE: Contacts is only available to a limited audience at this time. LinkedIn will be rolling out the new app in the coming months.)
Bottom Line: LinkedIn Contacts is really the first of its kind for social media companies. The app provides LinkedIn users with yet another tool to improve their online networking capabilities and to build professional relationships on the social network.
It also gives LinkedIn a greater role in the life of its target user, giving people more reasons to access the both Contacts and LinkedIn on a regular basis.
Facebook released a new mobile redesign for pages this week, providing a sleek look, making it easier for users to like, message, call, as well as see if the business is open.
Other information, like location, hours, and price range will now be more accessible to mobile page visitors as well.
Users will also be shown updates on how many times they've checked in at particular locations.
Bottom Line: While the latest redesign won't add any new features for Page admins, it will have an impact on how users interact with your Facebook Page on mobile.
One of the main reasons users access Facebook Pages while on-the-go is to get quick answers about your business (How late are you open? Are you nearby? Do you have what I'm looking for?).
Now, Facebook is making it easier for users to access that information and to connect with you directly.
If you haven't already, make sure to check the information on your Facebook Page and make sure it's up-to-date.
A new infographic from Uberflip, takes a close look at the current state of B2B Content Marketing.
Today, 91% of business to business (B2B) businesses are using content marketing to engage prospects and build relationships with their target audience. 68% plan to increase their content marketing budgets in 2013.
For B2B marketers, the top content marketing tactics include:
Social media 87%
Articles on your website 83%
eNewsletters 78%
Blogs 77%
Check out the infographic for more insights.
Bottom Line: Whether you're a B2B, B2C, or nonprofit organization, creating content that engages your customers, members, and prospects is a central piece to any successful online marketing strategy.
Today, it's no longer about who has the biggest budget or in most cases, the loudest voice in the room.
It's about the businesses and organizations that create meaningful content that connect with their customers. The content that will have the greatest impact makes customers stop, pay attention, and realize that yes, this was written for me and yes, I can use this in my life.
Here's a look at how you can create content your audience will thank you for.
Have you made any changes to your email marketing strategy thanks to mobile? Tell us in the comments below!