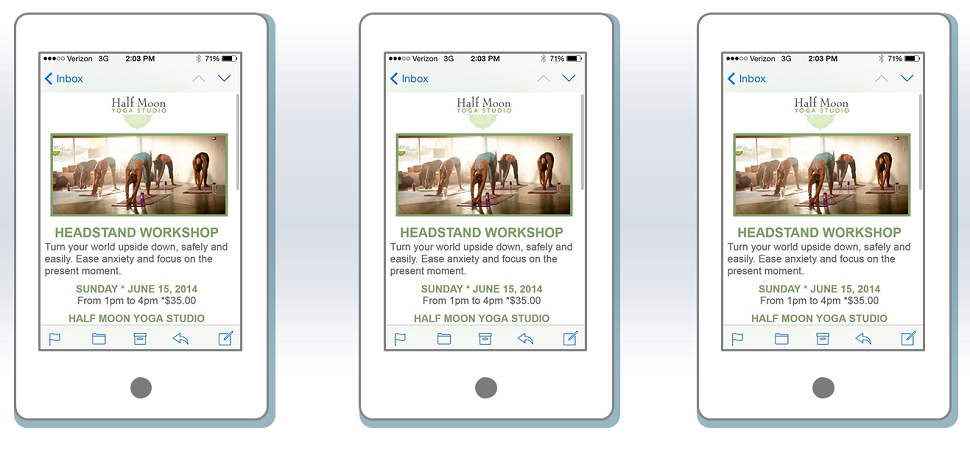 With mobile popularity on the rise, more and more people are stepping away from their traditional computers and turning to their phones to surf the web, update social media, and check emails.
Consider this statistic: more than half of all emails are now opened on a mobile device.
This is why it's so important to design emails that look great on any screen — big or small.
Over the last few months, we've reached out to business owners who have already made the switch to mobile-friendly emails, with a goal to learn more about how they did it.
Like many others, they had a fair share of reservations when starting out, but made the switch and have since seen some impressive results.
Here's a look at three of our favorite examples:
Fed by Threads: Letting go of the email sidebar
Fed by Threads is a Tucson-based clothing company that provides twelve meals for food-insecure Americans per item sold. The company has been using Constant Contact for about two years to communicate with customers, update them on new products and let them know about exciting company happenings.
In that time, they have grown their email list to almost 2,000 contacts and have provided almost 150,000 meals to families in need.
With email playing such an important role in how Fed by Threads communicates with their audience, co-founder Alok Appadurai knew his company needed to adopt a more mobile-friendly design.
To do that, he made one significant change.
"The two-column theme allowed us to provide an exciting experience for the viewer. But, obviously that's really only exciting or effective on a desktop computer and I'm no dummy; statistics say that most are going to read it on their mobile phone or iPad. So I did it. I shifted to a mobile-friendly format and I really like it. It's faster to create a newsletter and I'm much more specific about what I'm looking to highlight."
If you've ever opened a multi-column email on your smartphone, you know that it takes some zooming and scrolling before you can actually begin to read. With a single-column template, your message will maintain its look no matter the screen size!
Atlanta Association of Interpreters and Translators: Choosing your words carefully
Since 1981, the Atlanta Association of Interpreters and Translators has been promoting its industry through seminars and workshops while also managing a strong network of local professionals.
As technology has changed over time, the organization has done its best to adapt. A few years back they started to utilize social media and began sending out weekly emails using Constant Contact.
When making the switch to mobile, website and communications committee chair Amanda Williams said that they struggled a bit in cutting back the amount of content included in each message.
"As people who are constantly working with languages, we tend to get a bit wordy, but as Constant Contact has developed, we've changed the aesthetic of our emails and have streamlined our information as much as possible. We've tried to keep it relatively simple, and now they look much more modern than they did when we started."
By limiting the text in each email, the Atlanta Association of Interpreters and Translators was able to deliver more concise messages that got the point across without overwhelming readers.
Arlington Promotional Products: Being where you customer are
Arlington Promotional Products provides beautifully branded items for companies looking to further their marketing efforts.
For the past five years, they've used Constant Contact to send out sales flyers that not only provide updates on new product offerings, but also keep the business top-of-mind amongst customers.
Realizing that her messages weren't only being viewed on computers, owner Carol Singer decided to try a more mobile-friendly design.
"We are definitely focused on mobile devices now. I want to know that if someone gets our email, no matter where they are, they can look at it. In fact, when I sent our last flyer I got three phone calls! That's big! And I am almost positive that all of those people were on their phones, not in an office."
In order to make the emails more aesthetically pleasing on a mobile device, Arlington Promotional Products lessened the number of images included in each message while also increasing the text size, allowing the email to be easily read on smaller screens.
You can do it, too!
Regardless of what kind of device your readers are using, customers will appreciate opening up an email that is easy to read and gather information from.
And once they see how great it looks, they'll be much more inclined to take action!
Ready to get started? Here are 5 simple strategies for creating mobile-friendly emails.
Are you already optimizing your emails for mobile? What kind of results are you getting? Tell us in the comments below. 
Editor's Note: This post was originally published in December 2012 and has been updated for relevancy and accuracy.