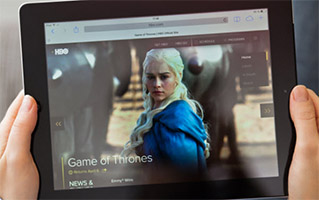 I love Game of Thrones — or GOT for those in the know.
I'm a big fan of the books and I'm thoroughly enjoying how the stories are being brought to life in the HBO series.
As I'm sure other fans would agree — it's been exciting to see those intense book moments play out on the TV screen. Moments like the Red Wedding, Purple Wedding, and who doesn't love the dragons!
I'm looking forward to one other big event which I'm not going to mention to avoid spoiling it for anyone not up to speed with the books.
As much as I've been impressed with the show itself, I'm equally impressed with how the show has been promoted across channels in specific ways for fans of the show to go deeper into the GOT universe and spread the word about the show.
There are lessons here for a business of any size on how to use content across channels to support your goals.
Why would you want to market across channels?
It's simple. You want to be in all the places your current and potential customers are hanging out. New survey data has shown us that those small businesses and nonprofits who have adopted multi-channel marketing programs (82 percent), have seen an increase in customer engagement, new customers, and more revenue.  This is why it makes smart sense to get your message out on all the channels that matter: email, social, mobile, and web.
Even if you don't have an HBO budget the principles still apply. Let's take a look at how GOT can be your guide for your own multi-channel marketing efforts.
1. Choose your goal
It's safe to assume that HBO is looking to get as many people watching GOT as possible. We may not know the exact number they're looking to hit but you can bet they have one. The campaigns they run work in support of that goal.
The same should go for your business. You may be looking to get people to an event, increase your Facebook fans, get word out about the latest news, bring in more sales, or maybe you're just looking for feedback. Whatever the case may be you want to have some sort of measurable result that lets you know how you're doing against the goal you've set. Choose something specific.
2. Choose your campaigns and channels
GOT shares content in support of its goal across a variety of channels: website, Facebook, Twitter, Google+, and they even have a mobile app. You want to be aware of how and where your current and potential customers are consuming information. This means creating your supporting campaigns in a way that is right for a particular channel and easy to consume on a mobile device.
Once you know the goal you're trying to reach. It's time to figure out the campaigns and the channels you'll use to best support your goal. Again, the trick here is to move beyond a single instance and think about the combination of things you can do to get the word out. For example, you'll want to use email to send out a newsletter letting people know about what you have going on. The newsletter not only reaches people in their inbox, it also points them toward the places you want them to go. Maybe you have an exclusive offer on your Facebook Page, you have a local deal that you're running, or you want them to register for an upcoming event.
3. Choose your content
Content is currency in the digital world. It's what gets people's attention, it's what they consume, and it's what they share. Take a look at the types of content GOT uses to keep the show top of mind and build stronger relationships with its viewers. This isn't an exhaustive list but a general idea of how they're using different channels to support their goal.
Website: Contains episode guides that let the viewer go deep into the world of GOT
Facebook: Word images with quotes, video, other engaging updates
Twitter: Images, quotes, GIFs, links to articles, and event info
Google+: Images
Think about the ways you can use content in its different forms, images, videos, articles, and more, to show the personality of your business and connect with your audience. How can you use this content to expose your offer to them? How can you make it compelling enough that people will want to share it with their friends?
4. Measure your results
HBO may look at the amount of engagement they're getting on the items they share. Things like clicks, comments, shares, views, registrations, and reach. They're also looking at viewership and if they're increasing subscriptions to the HBO service.
You'll also want to keep tabs on how well your campaigns are doing. Review your reports to see what's working, what isn't, and use this information to make adjustments so you get better results on your next campaign.
Take a lesson from GOT
As you're trying to make your marketing dollars go further and trying to figure out the best marketing campaigns to run, remember that it's all about using the vast array of campaign types available to you via those high-return channels: email, social, mobile, and web.
And if you're looking for an all-in-one online marketing platform that simplifies your small business marketing by bringing together all the tools needed to drive repeat customers and reach new ones through wide array of campaign types, be sure to check out the Constant Contact Toolkit. This way you can rule your own marketing kingdom!