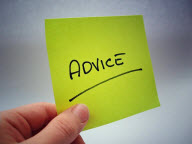 Last week, I was on many of the major television networks talking about the state of the economy — particularly jobs. The July unemployment report had just been released, and it showed a slight decline in jobless claims, which signaled that some companies are hiring again. However, according to many experts, the actual unemployment rate is much higher than what's reported because a significant number of Americans have simply given up looking for a job.
What are these people who aren't showing up in the unemployment statistics doing? Some are under-employed; that means they have taken lower paying part-time jobs to make ends meet. But a lot of others, in my opinion, are joining the millions of Americans who are self-employed. They are starting their own small businesses. But as we all know, starting and growing a small business isn't easy, particularly in today's volatile economy.
So what does it take to build a successful business? Here's my best piece of advice: Always remember, passion doesn't equal profits.
There are far too many small business experts who say, "If you're passionate about what you do, you can't help but succeed." Oh yes, you can! Passion is not the singular key to business success. Let me repeat: Passion is not the singular key to business success!
Believing that passion by itself is the key to business success is like believing sappy chick flicks reflect real life. Anyone who has built a successful business understands that it requires a lot more than passion.
Please don't misunderstand me. Passion is one of the important ingredients for success — in everything you do. It is life's energy source. Without a high level of enjoyment in the work you do, you won't have the energy and the drive you need to get you through the inevitable challenges your business will face. Furthermore, when you love something and are passionate about it, I think it's easier to excel at it.
Think about successful athletes. They practice hours and hours each day despite aches and pains or inclement weather. Their lives are focused on improving their game so that they can be serious competitors. They have a special talent and passion for the sport, which provides them with the necessary energy, but it's their commitment and dedication that sets them apart.
The same is true in business. Success depends on practicing the fundamentals daily, keeping your eye on the goal, being willing to be coached, and maintaining a strong, committed work ethic. There are lots of passionate people in the world who never achieve their goals. Building a business is plain old hard work. And if you don't have the discipline to get up and go after it every single day, then you're not going to be successful. If it were that easy, then every new business would be a success.
What's your best advice for other small business owners? Share your thoughts in the comments section below.