Last Saturday, I invited some friends over so we could watch The Rumble 2012, a highly anticipated, live streaming debate between The Daily Show's Jon Stewart and The O'Reilly Factor's Bill O'Reilly.
Fifteen minutes before the debate began, I tried to register online to watch the "big event." The website failed to load, then promptly crashed. Eventually, I got to watch the video—on Sunday.
Apparently, thousands of other people suffered a similar fate. They took to social media to strike the video host company with virtual blows in the form of Yelp reviews, Facebook comments, and tweets.
As the smoke cleared, I was left thinking about how small businesses can keep a potentially bad situation from getting worse in the age of social media.
Let's take a closer look at what we can learn from this debate debacle:
1. Don't go quiet, get vocal
Admittedly, having your company's Twitter and Facebook Page flooded by negative feedback is nightmarish, but hiding under the covers won't make it go away.
"Never remove negative stuff [on social media]," advises Shinnon Fahkri, the marketing specialist for Little Sprouts, winner of the Small Business of the Year Award from the Greater Boston Chamber of Commerce. "Otherwise, it looks dishonest, because [the odds are good that] somebody somewhere saw it and noticed that it's gone."
She advises that the best way to deal with negative publicity is to respond. Show that you're involved and you care about the customer's experience. Social media users can be quick to judge, but they can also be quick to understand. A little acknowledgement of an issue can go a long way.
Hit all your social media channels with an explanation. Let your customers know you're aware of the situation and are working on a fix.
2. Say you're sorry
Acknowledging the issue and apologizing doesn't just help calm an upset customer, it shows every other customer that you're accepting responsibility, which is something everyone can respect.
At Constant Contact, Twitter and Facebook are some of our primary tools for talking with customers. If something goes wrong, we'll be sure to tell our fans and followers about the issue right away and respond to any questions they might have.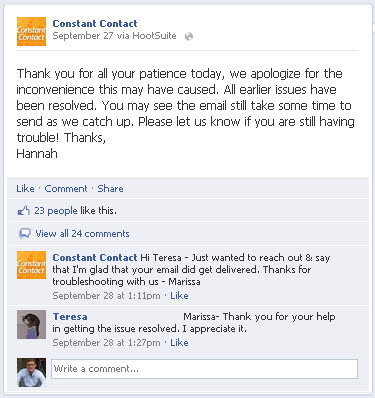 The alternative is much worse. If you don't respond, these channels will go radioactive with negative comments that will linger on search results for months and years to come.
That's not good. Especially because 72% of consumers say they trust online reviews as much as personal recommendations.
3. Take bad publicity as an opportunity to delight your customers
OK, so your business talked about the problem with customers and you took responsibility for it. The next step is to provide a solution.
That solution can be a quick fix to the issue, a refund, or a thorough explanation. You could even offer a discount on a future product as a way to say, "Thanks for sticking with us."
Whatever you do, make sure it's confident and well-executed. Don't start offering refunds, then think twice. And if you do offer refunds or other benefits, make sure customers can easily receive them—otherwise, you're opening up the door of negativity again.
Social media has changed customer relations forever
Social media has made your relationships with customers even more important and intricate.
It's critical to acknowledge negative situations, apologize, and then work toward a solution. Customers have already seen the negative stuff, so now it's up to you to show you respond.
If you use these channels the right way, you won't just grow your brand recognition and your business, you can also keep that occasional bad situation from getting way, way, worse.
Want more advice on social media publicity? Watch our Ask An Expert video, "How to Deal with Negative Feedback on Social Media."