One of the biggest questions I get during my email tips and tricks seminar is what to put in a newsletter. Coming up with 12 topics or more per year, depending on how frequently you mail, can be a real challenge.
The key is to keep the "sell, sell, sell" mentality to a minimum and give your readers information they can use. Readers want to be educated and they want to be able to share items of interest with friends and family.  Your content needs to be interesting, making it easier for your readers to share with a wider circle of their own contacts.
So, what should you write about every week or month? Your everyday activities can help you generate useful content to keep your subscribers happy and clicking.
Share your secrets
As a business owner, you have a wealth of secrets to success that have brought you to where you are. Why not share some of those insights with your readers? Everyone loves to be in the know. Here are a few examples of "secrets" that could serve as valuable content:
Restaurants could share a few favorite recipes with their fans. The chef could share recipes of items on the menu or provide exclusive dishes to readers. Even general cooking tips can keep an audience coming back for more.
Craft shopscould provide do-it-yourself guides to some of the finished products they offer. Customers will love the new challenges and will be coming into the shop to buy the materials they need.
Consultants can use their newsletters to share advice with fellow business owners on best practices for growing a business or growing a mailing list (sound familiar?).
Let your customers share their secrets: how do they use your products or services? What is their favorite thing you offer? Ask for their submissions and then you'll have great content you won't even have to write.
For the "sell" piece, you can add a coupon block that can offer a percentage off the products and service mentioned in the newsletter or, in the case of a restaurant, a meal.
Share knowledge
Those in the other consumer-oriented businesses might be thinking, what kind of tips can I offer? There are plenty of opportunities for you to provide knowledge-boosting content to your subscriber base.
Accountants can share their knowledge with customers. They can share ways to get organised before preparing to submit their self-assessment tax return and keep financially organised throughout the year.
A boutique could offer unique gift ideas for that hard-to-shop-for customer. Think outside the box (pun intended) for gift ideas, particularly around holidays.
Spas can give readers home relaxation tips or ways they can keep that professional manicure looking good.
Home furnishing shops can provide customers with tips on how to better decorate their home to make their house look great.
Think about your business and ask what benefits you provide to your customers and clients. Then use your newsletter to highlight those benefits to your customer in an informative manner.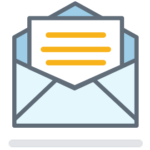 Is email marketing right for you?
See why smart small businesses use email marketing to drive more business. We'll show you exactly what it can do for you, and ten tips to get started.
Get your Guide!
By entering your information, you permit us to reach out to you in the future.