Yesterday, we talked about how nonprofits can run a fundraiser on Facebook.
We also mentioned how not every organization on Facebook strikes gold with that first post—or thousandth.
Growing a Facebook Page takes time, and time is something that's generally in short supply in the nonprofit world.
So here are 21 quick ideas for Facebook posts that can help grow your social media community and get your organization's mission across to fans:
1. Behind-the-scenes footage
The founder of Winter Park Harvest Festival, John Rife, shot a quick video of himself with his smartphone talking about his own efforts working toward a more sustainable future.
Pictures and videos that show how volunteers work toward an organization's goal can build a more personal relationship with Facebook fans.
2. Share your history
Most nonprofits have a long and rich history. Here, the Union Settlement Association goes back in time to showcase a picture from their archives. This engages fans and shows just how dedicated your organization is to the cause.
3. Use your tabs
Using Facebook tabs still isn't something that comes to mind for most organizations, but they can help make your Facebook Page a hub for all of the traffic to your main website, and provide quick buttons for donors looking to give.
4. Use your tabs some more
There are many possibilities for Facebook tabs. Here, we see John using them to integrate Winter Park Harvest Festival events run through Constant Contact Event Marketing, along with a sign-up sheet for his email marketing contact list.
5. Take a survey
Running a survey through Facebook is quick and easy, and it shows fans you're listening. Fairy DogParents' founder Marlo Manning ran this particular survey to give her some ideas for future Facebook posts.
6. Share testimonials
The SBDC at UNF uses Constant Contact's simple share feature to showcase the Spotlight section of the organization's newsletter, bringing client testimonials to the Facebook Page and also showing off the great content in each email.
7. Show off what you're doing
The Winter Park Harvest Festival's Facebook Page is bursting with colorful pictures, mostly taken from smartphones, and includes descriptions of what each photo means for the food-friendly cause.
8. Show off the results
Donors always want to see where their money is going. Fairy DogParents posts pictures of each dog they've helped, and makes sure to thank every fan for their contributions.
9. Link to press coverage of your cause
Whether a board member is getting interviewed by a local newspaper or you've written a blog post, press should always be shared on Facebook. That shows that the organization continues to have momentum in the field.
10. Include legislation that affects the organization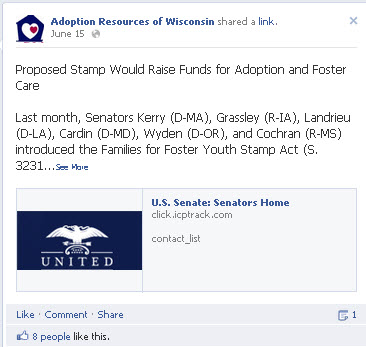 Whether it's good or bad, legislation that will have an impact on your organization or its mission should always be shared with fans so everyone is kept up-to-date with each development.
11. Ask for cause-related comments
The Adoption Resources of Wisconsin sometimes asks fans for their stories, which can get a whole conversation going and make everyone feel more involved.
12. Post pictures of your events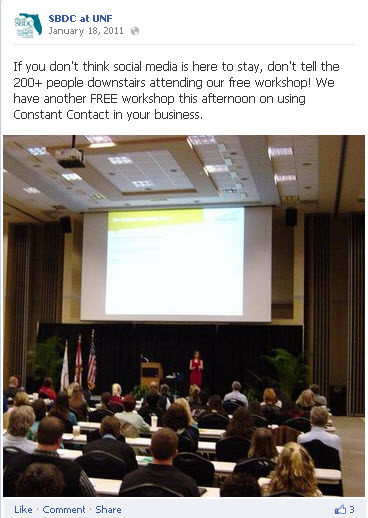 Every event is a good opportunity to snap a picture for Facebook—whether you're at a conference or cleaning up a river.
13. Post invitations to your events
Likewise, sharing the events themselves gives fans the opportunity to join them.
14. Educate
As a nonprofit, you know your subject matter better than almost anybody. Volunteers count on that expertise, and sharing it can help make people passionate about the cause.
15. Share feedback
Just like with other testimonials, any private thank-you from those who have been helped by the nonprofit should be shared with fans—if it's OK with those individuals.
16. Share with similar Facebook Pages
Just by tagging the name of another nonprofit in your field, you expand the reach of both organizations. Here, we see Fairy DogParents sharing a post from Curly Tail Pug Rescue. This can also help build relationships between Pages and build your community.
17. Share any news that strikes a common interest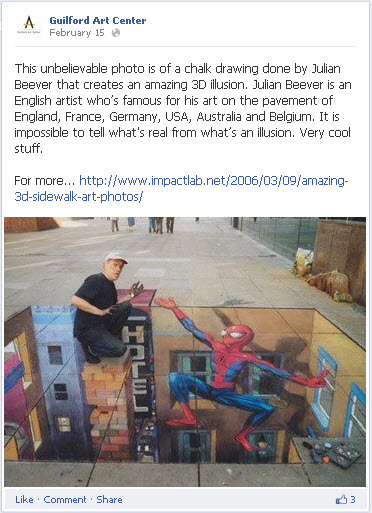 You can bet that if you're an art museum, fans are interested in any news about art. Likewise, an environmental organization can count on fans being passionate about any news about climate change or legislation. By sharing this kind of information, you position your Facebook Page as a resource for those interested in the broader aspects of the cause, too.
18. Use your cover photo to sum up your cause
Facebook's Timeline changes made Facebook more visual than ever. Your cover photo is a great place to put a montage of all your nonprofit's work so you can show it off to visitors as soon as they get to the Page.
19. Share your awards

Did your nonprofit win an award recently? Were you  nominated? Don't forget to share that with fans.
20. Welcome new members
Member organizations, volunteers, new staff, and everyone else can be welcomed with Facebook posts. Showing the new faces behind an organization, including a brief bio, can be a great way to connect fans with the organization.
21. Run a fundraiser
Lastly, nonprofits can use Facebook promotions to create fundraisers on Facebook, whether they're matching contributions from donors or partnering with a business.
What creative ways have you used to get your mission across on Facebook?  Let us know in the comments below.