At the beginning of this year, Constant Contact sponsored the Chicago 2013 Small Business Online Marketing Contest hosted by the City of Chicago Treasurer's Office. In part, it was a competition to see what kinds of awesome email marketing and social media campaigns Chicago-area businesses were running.
The panel of judges looked at originality of concept, polish, clarity, and overall effectiveness as the four key factors.
Over a hundred contestants submitted their campaigns and the panel got to see a lot of amazing work by small businesses all across the city.
See what you can learn from the businesses that won 1st and 2nd Place, along with the entrepreneur who won the Rookie Award:
Email Marketing Category
1st Place
The Business: Elements Contemporary Ballet
Challenge: Last September, Elements Contemporary Ballet competed to receive one of 190 grants being offered in a competition organized by Chase Community Giving.
Up against some big competition, Joseph Caruana, Managing Director of Elements Contemporary Ballet knew he would have to get the word out early.
"Our goal was to get our audience, friends, and family, to not only vote for us in the campaign, but to reach out to their friends and family to vote for us as well," explains Joseph. "The only way we felt we had a chance at winning was to motivate our fans to help us get the needed votes."
The Campaign: On the first morning of the campaign, Joseph sent out an email to the dance company's list of more than 1,500 contacts asking for their vote.
Over the next two weeks, Joseph relied on social media, printed flyers, and word-of-mouth to get the word out about the contest and make sure everyone was involved in helping them reach their goal.
He sent out another email halfway through the campaign—this time with a video asking them to help out, and finished the campaign with a final reminder and plea to get readers to tell their friends.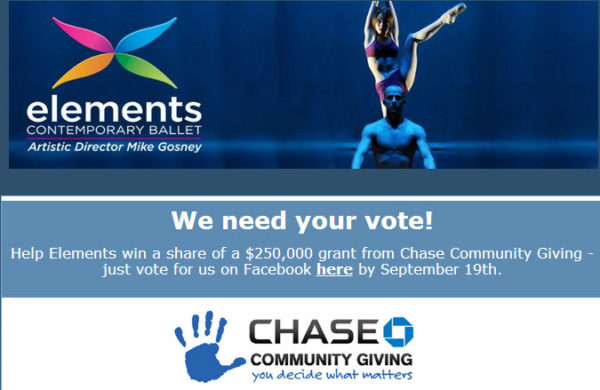 The Results: Elements Contemporary Ballet was awarded a $10,000 grant from Chase Community Giving. But that was just the start.
"Though the winning of this grant was monumental for our small company, I think what this campaign really did for us was engage and excite our audience, making them feel like they were part of something really important," Joseph recalls. "We heard from our volunteers about their friends that were unfamiliar with our company that were now visiting our website or Facebook page. Our Page grew from 700 fans to 1,200 in just two weeks!"
2nd Place
Organization: The Honeycomb Project
The Challenge: The Honeycomb Project is an organization that is dedicated to family volunteering. As a result, the goal of their campaign was to promote upcoming volunteer events and encourage their audience to donate the cause.
The Campaign: Kristina Lowenstein, co-founder of The Honeycomb project put together a targeted email—designed to promote upcoming events and provided contacts with a link to donate.
She sent the email to the organization's list of nearly 1,000 email contacts and saw an open-rate of over 45%!
The Result: "We anticipated that we would effectively promote our upcoming events and receive donations of approximately of $180 as a result," Kristina recalls. "The campaign exceeded our exceptions.  Both projects filled to capacity much faster than expected. From February 15-28, we received 16 individual donations totaling $301."
Rookie Award
Business: Shawn Sargent Studio
The Challenge: When Shawn Sargent decided to introduce new creative mixed media classes and workshops at his Chicago art studio, he knew he would need a way to let people know.
"I'd already been teaching throughout the Chicago area, but wanted to generate awareness of classes being taught in my studio."
The Campaign: Because Shawn had already been teaching classes and collecting email contacts for his business, he already had a list of 307 emails addresses when he got started with Constant Contact. He created his first email—with news about upcoming classes for kids and adults along with some advice from his experience as an artist—and sent it to his of contacts.
"This was my first Constant Contact email, and my goal was to reach people more effectively while making it easier for me to generate and track announcements," Shawn explains. "Previously, I labored over creating html emails, and even with targeted content and graphics, I had no way to track any response or areas of interest."
The Result: "It was great to see this info and which areas were getting the most clicks. I also got renewed interest in some classes, and feedback from some students who were excited about the info/email and wanted to be kept on my list for future mailings."
Social Media Category
1st Place
The Business: Hensler Integrated Marketing
The Challenge: Hensler Integrated Marketing worked with client, Deals Magazine to put together a campaign designed to boost social engagement and drive new business.
The Campaign: Hensler Integrated Marketing designed a game to target consumers in the Chicago area. The game drove people to the Deal Magazine Facebook Page, where they could earn credits by participating in the contest. They could also earn credits by referring friends to the Page. The campaign ran for 70 days.
The Result: "We achieved over 3,000 new Fans, 1,200 Pick & Win players, and averaged about 200 players per day," explains Matt Hesler, Principal of Hensler Integrated Marketing. "Players had 30 days after the promotion to use their Deal Dollars and during this time, we had over 5,000 new subscribers purchasing over 4,000 deals."
2nd Place
The Business: Kinzie Chophouse
The Challenge: Tionna Van Gundy, Private Events Sales Manager for Kinzie Chophouse was looking for a way to promote its upcoming Spirits of Winter Soiree.
"We were looking to reach an audience comprising of the after-work/business crowd and groups of friends from the surrounding neighborhood," she explains.
The Campaign: By combining the power of email marketing and social media, Tionna was able to get the word out early—sending 3 emails to promote the event, along with a series of posts on Facebook and Twitter.
The Result: "The feedback we received from our guests was outstanding! Many of the guests had never been to Kinzie Chophouse before and couldn't wait to come back," Tionna explains. "The word-of-mouth advertising from this along with enjoying a wonderful evening was more than what we could have asked for."
Rookie Award
The Company: My Daily Escape
The Challenge: Elizabeth Diaz, owner of My Daily Escape, was looking for a way to reach new audiences for her Chicago-based travel business.
"The goal of the campaign was to reach travel, music, and art enthusiasts of all ages in Chicago."
The Campaign: Elizabeth decided to think outside of the box. She created a mascot, the My Daily Escape travel ambassador Mason—a rubber chicken.
She began taking pictures, sharing updates, and letting fans know everywhere Mason had been. As a result, fans were able to see all of the places they could escape to if they wanted to get away.
The Result: "Social Media has done wonders for my business and should be a valuable marketing tool used by all small businesses," Elizabeth explains. "Thanks to sites like Facebook, Twitter and Instagram, my business has been able to reach a much larger audience who would have otherwise never heard of my business had I used other methods of marketing." 
Congratulations to all of the winners!