It's easy to see why businesses love Pinterest.
In addition to being one of the fastest growing social networks, Pinterest allows you to use rich visual content to drive traffic to your website, blog, or other social media properties.
This is great news if you're looking for a new way to reach your audience and promote your business, but also comes with certain challenges.
In this post I will address two Pinterest questions that I've been asked while presenting Constant Contact's online marketing webinars:
How do you share your content if you don't have eye-catching images on your website?
How do you create pins that drive people to sites that you can't pin from directly, like Facebook or Instagram?
Here are some tips that can help you with these common Pinterest problems:
Try creating an image with a free design tool
Canva and PicMonkey are two free tools you can use to design an image from scratch.
Both Canva and PicMonkey have free backgrounds, icons and patterns you can use, and you can upload any of your own elements to use in the design.
I recently used Canva to create an image to promote one of our social media webinars on Pinterest.
I uploaded an icon and our company logo, and used Canva features to fill out the rest of the design.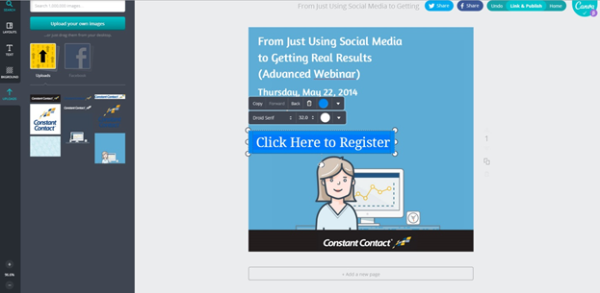 Next, I went to the relevant Pinterest board for this pin, and clicked the Add a Pin option.
I uploaded my image, and added a description. After you pin your image, click the pencil button to edit and enter the URL of the website you want people to visit when they click the pin. Finally, save your changes.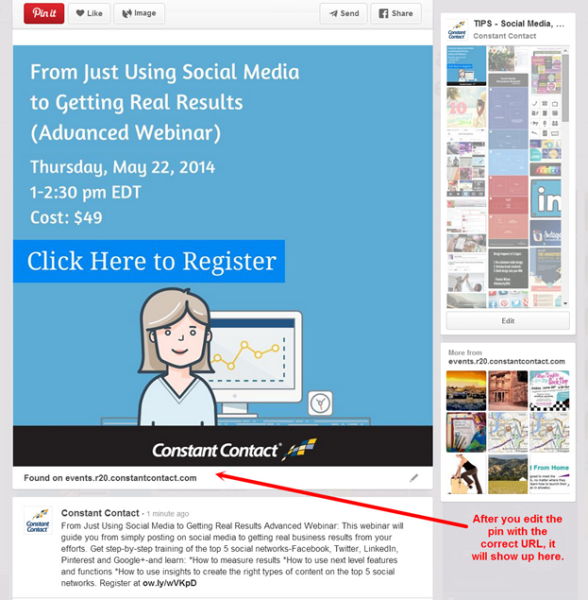 Use an uploaded image to pin to Facebook or Instagram
In general, when people pin an image from a website, they use Pinterest's Pin It button that they've installed on their internet browser. Unfortunately, the Pin It button doesn't work on Facebook and Instagram content. But you can link a pin to Facebook and Instagram with an easy workaround.
First, upload an image using the Add a Pin option on Pinterest and save it to a board. In this case, I used the original image that we posted on the Constant Contact Facebook page.
Go to Facebook or Instagram, and click on the image post you want to drive people to. Copy the URL that appears when you click on that image.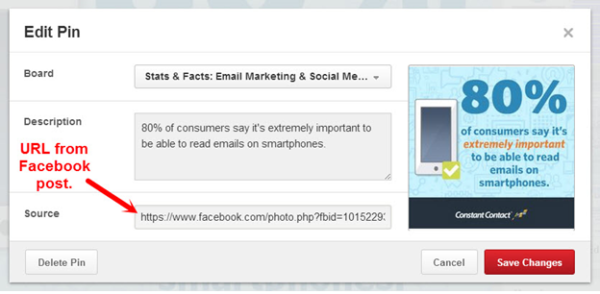 Then, click the pencil button on your pin to edit. Paste the URL from Facebook or Instagram as the source and save your changes.
Keep these best practices in mind
When you are uploading images to Pinterest, there are some best practices you should be using to optimize your pins.
1. Sizing
Use the right size for your Pinterest images and take advantage of the sizing Pinterest uses to display content in its news feed. A pin's maximum width in Pinterest is 735 pixels, and there is no maximum height. Try using images that are longer than they are wide. Longer images will take up more real estate in the news feed and stand out to Pinterest users.
2. Use keywords and hashtags
Pinterest users often use Pinterest's search feature to find pins on the topics they're interested in. They can also look for pins with the Explore Interests tool for desktop and Guided Search on the mobile app. This means that the keywords and hashtags you use in your pins are crucial to getting your content found on Pinterest. Take advantage of the 500 character limit description for pins, and use as many keywords and hashtags as possible to describe your pin.
3. Timing and frequency
We recommend that you pin at least 5 times a day to be visible in the Pinterest news feeds of your followers. But make sure you're pinning when your audience is most active. You can start by using other marketing efforts to help with this — if you're sending emails or posting to Facebook or other social sites on the days and times when your audience online, apply those lessons to Pinterest.
Need more social media help?
Watch our free recorded webinar, You're Social, Now What? 
Have other Pinterest questions? Post them in the comments below!