Podcasts have been causing quite a lot of noise lately.
Yes, literally.
For those completely new to the podcast scene, podcasts are a series of audio files made available online. Most podcasts are set up like a TV or radio show, with different "seasons" and episodes focused on varied topics featuring special guests.
Listeners can subscribe to specific podcasts, download new episodes, and listen whenever it's convenient to them.
While podcasts have been around for about a decade — think back to 2004 when Apple's iPod minis were all the rage, and iTunes Music Store had just gone international — there's been a surge in listenership in the last couple years that's getting a lot of attention from business owners, celebrities, advertisers, and consumers alike.
Let's take a closer look at six reasons why the rising popularity of podcasts could matter for your business:
1. It doesn't take much to get started.
One of the things that makes podcasts so compelling for businesses — especially businesses with smaller staffs and limited budgets — is that they don't require a significant investment to get started. Something as simple as recording on a smartphone or tablet should be perfect for your first few episodes.
Because podcasts are also very conversational, you won't need to write out everything you want to say. You can create an outline ahead of time to help you stay on topic, but most of the conversation will be fine unscripted.
2. Podcasts are perfect for storytelling.
As a small business, your stories are what help you draw people in, get them invested in your business, and persuade them to choose your business over the competition. Hopefully, you're already looking for ways bring your unique stories to your online presence like your website, blog, social media, and email marketing messages.
If so, you're probably wondering — what's the benefit of adding a podcast to this list?
As an audio based platform, podcasts allow you to harness more communication power than written word alone. Your listeners will be hearing your stories straight from the source, rather than reading the words and interpreting them on their own.
This will help you convey tone, timing, humor, and excitement in a way that even the most talented writers struggle to get across on a page.
3. They're extremely convenient to consume.
More than blog posts or videos, which demand someone's full attention, podcasts give listeners the gift of multitasking.
That's why most podcast listeners listen to podcasts through their smartphones, tablets, or other mobile devices. Listeners are able to listen to podcasts while getting ready in the morning, driving to work, or cooking dinner.
Podcast fans can easily incorporate listening time into their daily routines, which is probably why one in five weekly podcast users consume six or more podcasts a week.
4. You can become an industry expert.
What kinds of industries are using podcasts? A quick perusal of iTunes will show you everything from knitting to craft beer to economics are all fair game.
Think about your expertise and audience, and what topics you could cover on an ongoing basis. Remember that podcasts also work well for interviews, so you don't have to worry about being the expert on every topic you want to cover.
You also shouldn't be concerned about your expertise being too niche; in fact, niche podcasts may work well because you have less noise to fight through. You could also have an easier time of being featured on a platform like iTunes if there are less podcasts focused on your specific topic.
5. Your listeners are in it for the long haul.
Consider the time difference between a member of your audience viewing one of your tweets versus listening to a podcast. Podcasts give your listeners the time they need to settle in and engage more deeply with what you're saying.
While the length of podcast episodes varies quite a bit, keeping episodes to 15 -30 minutes increase the likelihood that listeners can consume full episodes without interruption.
Beyond the time investment, podcasts inspire loyalty because listeners are getting to know and trust you. This will move potential customers through the buying cycle more quickly and give you opportunity to keep them updated on your business's offerings.
6. You can reach a new, targeted audience.
Your business is probably already thinking about how to optimize your website to get found through search engines. Starting a podcast will open up opportunities for getting found on platforms like iTunes, which has 800 million accounts, or SoundCloud, with over 250 million active users.  
New listeners who come across your podcast are often those who are searching out information on a specific topic. This ensures you're reaching them with the right information at the right time.
Additionally, you can add subscribe buttons to your email newsletters and website to engage those who are already familiar with your business.
Ready to dip your toes into the podcast stream?
Even if the idea of starting a podcast appeals to you, you may feel unsure about taking on another commitment.
Consider taking these small steps first:
Listen to what's out there: Find out what's already being created and think about how your approach would compare. You can find recent episodes of our new podcast, Small Biz Stories here.
Appear on existing shows: If starting your own podcast isn't realistic for you right now, you can still benefit from podcasting as a featured guest on existing podcasts. Spend some time researching popular podcasts related to your industry. Ask customers what podcasts they listen to. Once you find podcasts that could be relevant to your industry, or that you think you could add value to, look for opportunities to build relationships with the hosts. If you have your own content that you think they'll find interesting, share it with them so that they can see the type of value you could offer.
We recently launched a new podcast, Small Biz Stories, to share the stories of businesses that beat the odds and achieved success. From the initial spark that fueled their decision to get started to the days where they questioned if it was all worth it, each business owner shares their advice for overcoming challenges and achieving their dreams. You can find our recent episodes here.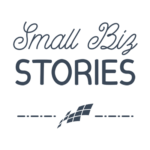 Never Miss an Episode
Small Biz Stories tells the story of some of the bravest people you'll ever meet — small business owners. You'll hear how they got started, their biggest challenges, and their dreams for the future.
Subscribe via iTunes