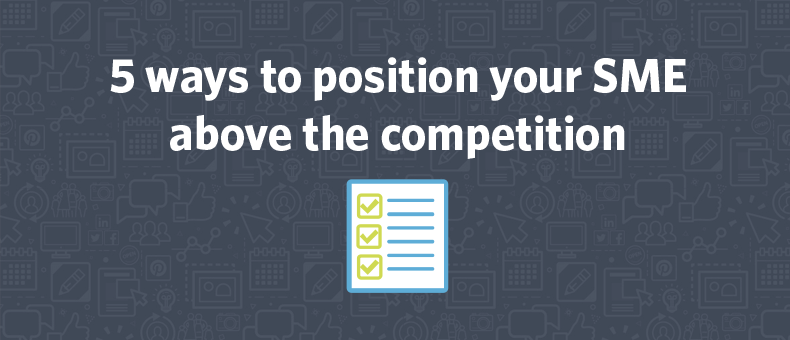 Editor's note: This post comes from our Constant Contact UK office. You can view all posts from our UK team here. Or connect with us on Facebook and Twitter.
It's unlikely that you exist in a market of one. Almost every business has competitors grappling for market share. Even if you have pioneered some new service, new product or new technology and don't yet have any competition, you will do soon.
Businesses that understand their product, their customers and communicate with verve will always stand out. Whether you are a newcomer in a crowded field or are trying to defend your market share from the new kids on the block, digital marketing is a fantastic leveller. Get it right and you can build a loyal tribe of followers and see your bottom line soar.
Here are five tips.
1. Provide knockout customer service
Genuinely A-star customer service always builds a buzz around a business. From a digital media point of view, there's no excuse not to nail it. You should respond to customer queries and comments as soon as possible, whether it's an email to your support team or an interaction on social media. And do so with one, unified brand voice that is consistent across all of your communications.
Automated emails are another great way to eke out extra value from your customer interactions. These will depend on your type of business, of course, but think about your approach to items like order confirmation emails, delivery notifications and newsletter registrations. Make them as personal, real and human as you can. Mundanity is not a good differentiator.
2. Make it personal
Personalising your email campaigns and social media interactions based on your customers' online behaviours is a tried and true way to increase your lead conversion. With the right software you can acquire a huge amount of data on your web visitors, email subscribers and social media followers.
A crude example: Let's say you run an online clothing store. If your latest campaign idea is for teenage girls only, your email campaign is going to be far more effective if you separate the girls from the men and women in your subscriber list. That's a no-brainer. But what if you could use the data at your disposal to segment your list in more advanced ways?
What if you knew which city each of your subscribers lived in? What their favourite clothing brands were? How often they had purchased from you in the past? Before you know it you can create highly personalised campaigns. Torrential rainfall forecast for your customer's city? Hoik out an email with discounts on anoraks, wellies and umbrellas.
The more targeted your communications, the better the chances of conversion, not to mention sticking in your reader's memory.
3. Be proactive
You cannot afford to be passive if you want to stand out as a business. Sure, bombarding your prospects with white noise is a dead-cert for turning them against you. But finding your tribe demands you to be proactive with well-planned communications that attempt to illicit some kind of action or response. You have to put your best foot forward and reach out.
Think about offering money-off vouchers to your subscribers to tie in with certain events. (Birthday vouchers are a good way to win brownie points.) Test different types of content and keep a close eye on your analytics to see how your audience responds. When you have an idea of what's working, you can double down on your efforts to keep your audience engaged.
4. Be in the moment
Context should be a key word when planning your digital marketing campaigns. What real-world talking points are your target audience engaged with? How do your business's products or services tie in? Anchoring your communications around real-world events and popular culture is a great way to break down barriers between you and your prospects and show some personality.
5. Be you
Oh yes, don't be afraid of showing your personality. When you follow the crowd you end up as a diluted version of what's already in the market. Pour yourself and your identity into your business and you become inimitable. Uniquely you. Showing your personality is human. And people do business with people, not lifeless mission statements or impenetrable business speak.
For you, being you is easy. For others, it's impossible. What better way to stand out?
What are you waiting for?
The tools to help you get advanced insight into your audience's online behaviour are ready and waiting. That's the easy bit. The hard bit is finding time to make sense of the data and plan your marketing accordingly. Especially when you are already stretched.
But with a little planning, a dose of personality and a commitment to rock-star customer service, the rewards are colossal. In time you will build an identity for your business that knocks spots off your competitors, engages your audience and boosts your conversion rates.
Got any tips of your own? Shout out in the comments.