Whether you're a business or nonprofit, your blog should position your organization as the expert in the field. It should become a resource for news and in-depth looks at different issues, but also serve as a platform to communicate your values.
Let's say you have a blog. You even know the six ingredients that make it "juicy," but do you know how to promote your blog?
If the answer is "no," here are eight great places you can start promoting your blog today:
1. Emails
If you're using email marketing to keep in touch with people, try including the first few paragraphs of your blog in your email newsletter.
That alone can help drive traffic to your blog and your website, and also provide inspiration for content for your email newsletter itself.
Financial planner, David Lewis, uses his emails as a vehicle for his blog posts. "We wanted to use our newsletters as a way to deliver blog posts to clients we're already serving," he explains.
Overall, he estimates his blog has doubled the number of clients seeking information from Resource Advisory Services.
2. Facebook
At Constant Contact, our social media team works closely with members of our content team (like me!) to ensure that our blog posts get maximum exposure.
Sometimes, Facebook posts about blog posts can generate a whole new conversation on Facebook. And, don't forget to share your blog posts on your personal Facebook profile, too!
3. Twitter
Twitter is another great place to feature blog posts. Problem is, you only have 140 characters to work with.
To work around this, try tweeting a summary of your post, a quote pulled from the post, or just commenting on the post itself. Anything that creates traffic back to your blog is a good thing.
Want to really spread the word? Try starting a Tweet Chat about the blog topic. You can also include your blog's URL on your Twitter handle, so people can see that you have one.
If you know some industry influencers, tweet the post to them and ask for their opinion. If they respond, that can start a whole snowball of publicity.
4. LinkedIn
If you have a blog post that's talking about business—especially sales or marketing—LinkedIn has a lot of groups you can join to start a discussion.
This can broaden your audience and encourage readers to engage with you about the material and might even give you ideas for future blog posts.
5. Pinterest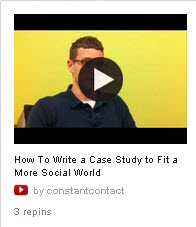 Pinterest is an extremely visual social network. To encourage pinning your blog post, make sure you have an interesting image to go along with it.
A funny picture or an infographic can get pinned and re-pinned a lot, which will also drive traffic to your blog.
6. Comments sections
If you're a frequent commenter on industry blogs, you can also link back to your own blog as a point of reference when you leave a comment.
Just include it in the comments form that most websites have for anyone who wants to comment on a blog post.
7. Guest posts
Look around for bigger websites that are looking for content contributors. The advantage of the guest post is that it gets your name and your organization out there, and you have the opportunity to link back to your own blog.
8. Syndication
Alternatively, you can try syndicating your own blog with websites, so that your blog's content appears on the site somewhere. That can open up a whole new channel for the posts and expose your blog to a new audience.
Keep the faith
Blogging is tough work! You never know what's going to take off and what's going to sink to the bottom of the virtual sea.
The key to building a following is, above all, staying consistent. Readers aren't likely to repeatedly visit a blog if they're not sure when a new post is going up, nor will they trust your opinion if you have two blog posts after three years.
So stay consistent, persistent, and blog, blog away!
Want some tips to improve your blog? Check out 6 Ingredients to Make Your Organization's Blog Big, Bold, and Juicy.