CASL is short for the Canadian Anti-Spam Legislation that went into effect on July 1, 2014.
The law currently remains in effect with no changes.
July 1, 2017 marked the end of the "three-year transitional period" and you must obtain permission for all addresses you are mailing to regardless of how long or when you acquired the address.
What is CASL?
CASL intends to protect electronic commerce in Canada by deterring damaging and deceptive forms of spam, such as:
Identity theft

Phishing

Spyware
What does CASL require from businesses?
CASL requires all businesses to obtain and document consent to send commercial emails to Canadians.
This means that if you have Canadian email addresses in your email marketing database, the law is applicable to you even if your business is based in the U.S. or any other country outside of Canada.
What do you need to do to make sure you're CASL-compliant?
We've build several tools and features to help you be CASL compliant. We've also created a new CASL Resource Center where you can find all the information you need to build an email marketing strategy with CASL in mind.
If you're wondering what you need to do to be CASL-compliant today, there are three steps we recommend:
Step 1: Review your email address collection methods
For all Canadian email addresses added to your email marketing database before July 1, 2014, CASL requires you to document express consent from your customers.
For all Canadian email addresses added to your email marketing database after July 1, 2014, CASL requires you to document consent, either implied or express.
Implied consent is inferred based on actions, such as having an existing business relationship (making a purchase or donation, for example). In order to maintain implied consent, a contact must initiate a business action with you at least once every two years.  If express consent is not obtained within the two-year window, best practice is to move the contact to the "unsubscribe" state
Express consent is obtained when you explicitly ask your potential contacts for permission to send them email, and they agree. Once you obtain express consent, it is good forever or until someone opts out.
If you use the Constant Contact website sign-up form to collect email addresses it will contain the necessary information and you will have a record of express consent from your contacts that is documented within your Constant Contact account.
If you are using methods other than the Constant Contact website sign-up form, such as a third-party sign-up form, manually uploading a list, or a paper sign-up form, you'll need to make sure you're adding the appropriate CASL-compliant language to all of these sign-up methods and save documentation of the contact's express permission.
Step 2: Obtain express consent
For contacts added prior to July 1, 2014, you must be able to document express consent before July 1, 2017 (three years after the law goes into effect).  After this date, all (Canadian) contacts older than two years without express consent must be moved to the unsubscribed state.
We recommend you start taking any necessary actions to comply with CASL sooner rather than later.
Review your email list and answer the following:
Do you have any contacts with an email address ending with .ca?

Do you have any contacts with a Canadian physical address or phone number associated with an email address?
If the answer is yes, we recommend sending a dedicated email to your Canadian contacts asking them to confirm their opt-in status by clicking a link within the email. When a contact clicks on the opt-in link in the email, the contact will be tracked as express consent by Constant Contact.
We created a special CASL template to make this process simple for you.
Step 3: Make sure ongoing communications have appropriate CASL required information
All marketing emails you send must contain the following information in order to be CASL compliant.
Make sure you can answer "yes" to the following questions:
Does the email clearly identify the person, business, or organization sending the message?

Does the email identify the Email Service Provider?

Does the email have a mechanism for people to easily unsubscribe at any time?

Does your email contain a valid mailing address and either a telephone number, email address, or web address?
Note: All emails sent through your Constant Contact account include the information above and will be in compliance with CASL.
Permission-based email marketing is the best route to developing long-lasting customer relationships.
We've seen that businesses that focus on permission-based marketing demonstrate that they value the trust and privacy of each and every customer. As a result, they have better open rates, less spam reports, and more opportunities to grow their business.
By building permission-based lists that follow CASL requirements, you'll keep yourself safe by being in compliance and set yourself up for marketing success!
There's nothing small about the impact of small businesses in Canada.
Small and medium-sized companies represent 99.8 percent of all companies and employ 64 percent of private sector workers in Canada.
And this month, we're excited to be celebrating these businesses as part of Small Business Month in Canada.
If you own a small business in Canada, you're fortunate to have access to a number of people and organizations that are committed to your success.
To celebrate Small Business Month, we compiled some of these resources with information about how they can help with your success. Whether you're looking for help with funding, need advice for growing your business, or want to become a better marketer — these resources can help.
Business Resources
1. Chamber of Commerce
In addition to the number of benefits that come with membership in the Chamber of Commerce, organizations like Canadian Chamber of Commerce, BC Chamber of Commerce, and Mississauga Board of Trade, also offer free resources to help you stay informed about new policies and issues that could impact your business. The Chambers also host a full schedule of events, both online and in-person.
Learn more:
2. Business Development Bank of Canada (BDC)
The Business Development Bank of Canada sponsors Small Business Week during the third week of October (October 18 – 24), which features live events across Canada.
Their website also features helpful articles with advice for things like:
You can find all of these helpful resources here.
3. Canadian Association of Women Executives & Entrepreneurs (CAWEE)
For nearly forty years, The Canadian Association of Women Executives and Entrepreneurs (CAWEE) has been helping Canadian businesswomen build valuable, lasting relationships to strengthen their business.
You can check out their full schedule of member and non-member events here.
4. Canadian Federation of Independent Businesses (CFIB)
The Canadian Federation of Independent Businesses (CFIB) offers business support services to small business owners throughout Canada. In addition to advocating on behalf of independent business owners, CFIB's Media Centre provides up-to-date news and advice for businesses across Canada.
5. Enterprise Toronto
Enterprise Toronto is committed to supporting startup businesses in the Toronto area. They have free resources to help you start your business, and will connect you with the services you need to run your business more effectively. They also offer free resources for organizations looking to plan events in the Toronto area.
6. Small Business BC
Small Business BC is hosting a series of seminars and free events in celebration of Small Business Month.
In addition to these events, Small Business BC offers tools and resources for business owners at any stage of their business — whether you're starting a business, growing a business, or planning to exit a business.
Marketing Advice
7. Canadian Marketing Association (CMA)
Whether you like to learn in-person or online, the Canadian Marketing Association (CMA) offers a variety of educational resources you can use to be a better marketer. Check out the Canadian Marketing Blog for actionable advice to improve your marketing, or find an educational event in your area.
8. Top Dog Social Media
If you're looking for daily social media news and advice, Top Dog Social Media has you covered. The Top Dog Social Media blog is packed with helpful advice for making social media work for your business. They also offer a free LinkedIn Master Class, presented by Top Dog Social Media founder and bestselling author of The LinkedIn Code, Melonie Dodaro.
9. RebeccaColeman.ca
Social media expert, Rebecca Coleman, offers practical social media advice that you can use to build your social media presence. You can subscribe to Rebecca's Blogging Mastery newsletter to receive a monthly newsletter with helpful articles and blogging advice.
10. MarcGordon.ca
If you're looking for quick and actionable small business marketing and business management advice, check out Marc Gordon's High 5 for Business articles. Each article is around 300 words and shares five practical tips in the areas of marketing, sales, and customer service.
Bonus Resources
Constant Contact offers a number of marketing resources and services for small businesses in Canada.
You can read our latest marketing advice from our Canadian contributors, and read our latest content about topics impacting Canadian business owners here.
You can also find a full calendar of marketing seminars and training events in Canada in our event calendar.
Happy Small Business Month!
Looking for additional marketing advice? Check out these 11 tips from Canadian small business experts.
October is Small Business Month in Canada.
It's a month dedicated to honoring Canadian entrepreneurs, and celebrating small businesses for all that you do.
Here at Constant Contact, we are fortunate to have the chance to work with small businesses and organizations throughout Canada every day.
One of the things we enjoy most is when we have the chance to hear the stories of successful small business owners who have used our email marketing tools to become better marketers.
To celebrate Small Business Month, we wanted to share some of our favorite tips from these small business experts.
Read them all below, and help us in celebrating Small Business Month Canada by sharing your best advice with the hashtag #BeaMarketer.
1. Provide a personal touch
"It's always nice to hear someone tell us how much they enjoyed reading our newsletter and thanking us for reminding them to come visit the store or give us a call. The personal touch really makes the difference."
Sue Bedell, Owner, Second Bloom Design
Dorchester, Ontario
Constant Contact customer since 2010
Learn more: 3 Steps to Building Better Relationships with Email and Social Media
2. Ask for permission
"If you have been following e-newsletter best practices all along, you have nothing to fear from CASL! I've only ever added people to my list who had given me permission, so I was super happy when CASL came into effect."
Rebecca Coleman, www.rebeccacoleman.ca
Vancouver, British Columbia
Constant Contact customer since 2015
Learn more: [Q&A] How to Use Social Media and Email Marketing to Strengthen Your Business
3. Be clear and concise
"People don't have the time to read a lot of text. We make sure our emails are informative but also quick and easy to read."
Julie Ananny, Owner, Wine Station
Ottawa, Ontario
Constant Contact customer since 2012
Learn more: 10 Small Businesses & Nonprofits with Great-Looking Email Templates that Drive Action
4. Stay consistent
"In an industry like ours, it can sometimes take a few years before you actually convert a new client. So, we really focus on being consistent and building the relationship any way we can."
Bahar Saadat, Marketing Manager, Davidson & Company, LLP
Vancouver, British Columbia
Constant Contact customer since 2013
Learn more: How to Use Email Marketing to Build Brand Awareness
5. Focus on client success
"When you help your clients succeed, they're going to come back time and time again because you're generating that positive return on their investment."
Vito Marchese, Founder, Whiteboard Studios
Toronto, Ontario
Constant Contact Solution Provider since 2011
Learn more: How the Right Partner Helped One Consultant Expand His Services and Add Value to His Clients
6. Listen to your audience
"We want to make sure our families are enjoying their experience, so we send out a couple surveys each year — once a semester, one in September and one in January.  We ask about their experience, what we can improve on, what they're enjoying about their lessons. And we found that's a really great way to get feedback."
Cynthia Lee, Community Manager, Dominelli School of Music
Edmonton, Alberta
Constant Contact customer since 2009
Learn more: 5 Types of Emails to Show Your Customers How Much They Matter to Your Business
7. Make it easy to sign up
"At first we only had a sign-up form on our website, but once we realized how well it worked for us we've added it to our social media sites and pretty much anywhere else we can possibly add it."
Dan Plouffe, Co-owner, MyCollingwood.com
Collingwood, Ontario
Constant Contact customer since 2006
Learn more: How One Small Business Became the Talk of Their Town with Email and Social Media
8. Understand your audience
"We work closely with every client to understand the challenges they face and the results they want to achieve. We put a plan in place to fit their needs and offer the coaching and support to help them get where they want to go."
Brandon Klayman, CEO, Conscious Commerce
Calgary, Alberta
Constant Contact Solution Provider since 2004
Learn more: From Worst to First: How to Find the Right Partner to Turn Your Marketing Around
9. Track your results
"Email has definitely helped us with web traffic and attendance at our events. I like that after I send an email out, I can go back and see how many people clicked through on which links. That way I can tell people are interacting with our content and click through to our website."
Ally Whittaker, Public Relations Manager, The Local Good
Edmonton, Alberta
Constant Contact customer since 2009
Learn more: 5 Steps to Grow an Email Audience that Looks Forward to Hearing from You
10. Go beyond the inbox
"Social media and email really go hand-in-hand.  The ultimate goal for all of my social media campaigns is to get people to join my email list. I would rather have one subscriber than 10 followers, because I have direct access to that one subscriber."
Marc Gordon, www.marcgordon.ca
Toronto, Ontario
Constant Contact customer since 2007
Learn more: [Q&A] Small Business Marketing Advice from a Lifelong Entrepreneur
11. Try something new
"You need to learn, but at some point, just get out and try it. You'll never know everything about the marketing tactic you want to try, so it's best to just try it out and see what kind of impact you can get, then adjust accordingly."
Lisa Kember, Constant Contact Regional Director for Canada
Learn more: Small Business Tips from the Field: Meet Lisa Kember
Share your best marketing advice!
Post your best marketing advice in the comments below or share it on social media with the hashtag #BeaMarketer.
Happy Small Business Month Canada!
We've reached the halfway point in our series on Content Creation versus Content Curation!
In this third installment, we'll discuss some ideas you can walk away with and apply to your own business.
Before we do, let's recap.
We started by defining content curation and content creation, and exploring the differences between them.
Then, last month, we talked about which networks worked best for content curation.
In today's post, I'll share some ideas for curating content; ideas you can implement right away.
Whether you're brand new to blogging or are an experienced blogger who's struggling to find the time to keep up with your schedule — content curation can help.
When you curate content from other sources, you're able to bring fresh ideas to your audience and save a ton of time in the process.
In some cases, this will mean sharing content that's already been published and offering your perspective, but this can also mean reaching out to peers and experts in your industry and working with them to curate their ideas.
Here are four examples of how you can use content curation to create blog posts your readers will love.
1. Interview or "ask an expert" posts
Send emails to experts in your field and ask them if you can interview them — either via phone or email. Then send them a list of questions, usually about 3-5 is plenty.
Once you gather a few of these, you can pull them together in one, or even a series of posts. For example, you could write a post where all the experts share their answer to the first question, and then the second post would be all the experts sharing their answers to the second question, and so on.
Alternatively, just pick your favorite bits of learning and advice, and pull them together in a blog post. This could work for any industry, as it provides tons of value, and most likely the people you quote in your article will share your content, as well.
2. Roundup posts
This is a popular form of content curation on lifestyle blogs, but it can really work for any industry. Pick a topic, then do a Google search on that topic.
Pull the top posts that you like the best — that you find most valuable — and put them together in a list on your blog post, linking back to the original sources.
Write an introduction, and bam! You have a great post! This can work seasonally (ie: Top 25 Best Christmas Cookie Recipes), or with hot topics (top news in your industry this week), as well.
3. Top 10 posts
This is a great way to drive more traffic to your blog and remind your readers of some of your older pieces of content. Similar to the roundup above, you can write a compilation post, but this time only use content from your own site.
Don't have enough content to make a list of 10? Simply make it a smaller list. This could be something as simple as a list of the top most trafficked posts on your blog, or they could all be related to a specific topic.
4. Infographics
One method that has been really successful for me on my blog is sharing a curated infographic.
I keep a board of infographics on Pinterest, and once a week or so, I go through it, and find one that I think is good. I then write a short post about the content of the infographic, and offer some tips, paste in the infographic, credit the original source, and voila! blog post done.
As you can see, using curated content to fuel your blog posts doesn't need to be a time consuming process, and can actually be a lot of fun.
But what can you do if you've never taken the time to collect and share content for your audience?
One of my favorite places to start is on Twitter.
Twitter has a wealth of valuable content for any industry or audience imaginable. You can find popular content that's being shared and discussed. You can also find people within your industry who share great content and might even be willing to participate in an interview to share their ideas.
Here are a few ways I use Twitter to find content to share on my blog.
Seek out industry experts, follow, and subscribe: Twitter Search is a great tool for finding leaders in your industry. Search for terms that are relevant to your industry to see who is sharing content or talking about topics related to your business. Once you find them, make sure to follow and subscribe to their blogs.
Create or subscribe to Twitter lists: Twitter lists are fantastic for content curation. Once you find some "Twitterers" you really like, that share great, valuable content, pull them together in a list. Check in with this list daily, retweet their content, and look for the resources you'd like to curate for your blog. This is also a great way to find people you'd like to interview for upcoming blog posts.
Favorite tweets for later sharing: Use the "favorite" button on Twitter to bookmark tweets you want to come back to later for possible shares.
What's next?
Twitter is just one of the ways you can curate content and ideas from your audience. Next month, I'll share other examples of tools you can use to curate content, and help you set up systems to make curation a snap!
About the author: Rebecca Coleman is a blogger and social media marketing strategist. She teaches classes in social media marketing at the British Columbia Institute of Technology in Vancouver, BC. She loves Constant Contact, and just started a curated monthly email called Blogging Mastery, where she gathers the best articles on blogging from around the web every month. You can sign up for it here.
Vito Marchese always knew he wanted to be his own boss, which is why he didn't waste any time starting his company, Whiteboard Studio.
"I started my business in 2006, after graduating from The University of Toronto," Vito explains. "I always knew I wanted to be my own boss, so I started Whiteboard Studio and focused on offering traditional advertising services."
Within a few years, Vito had built a clientele of small businesses and nonprofit organizations. He began looking into new ways to expand his business's services to help his clients become more successful.
"As the market changed, we began offering digital marketing services such as website development, social media, and email marketing," Vito explains. "That's when I began using Constant Contact for my own business. I really loved what the tool had to offer."
In 2011, Vito attended a local seminar hosted by Lisa Kember, Regional Director, Canada East for Constant Contact.
It was there that Vito found out about the Constant Contact Solution Provider Program — a program designed to help companies like Whiteboard Studio grow their business and complement the services they already offer.
"I was already a huge fan of Constant Contact and when I started to learn more about the Solution Provider program, I knew it would be a perfect fit for my business," Vito explains. "After that, I began to re-align my services to focus strictly on email marketing, social media, and engagement marketing with Constant Contact."
After joining the program, Vito was assigned a dedicated account manager that introduced him to the different resources the program had to offer.
As Vito explains, this was an invaluable addition to his business.
"To have a dedicated account manager has really been crucial to my business. I'm able to work with her to set goals, hit targets, and generate new ideas," Vito explains. "I also take advantage of the online resources like the partner portal where I can monitor what's happening."
In addition to the resources to help him get started, Vito soon realized that the program could help address one of his biggest business challenges — generating new leads.
"I want to be the expert and Constant Contact gives me the tools and resources to help me do that," Vito explains. "I'm able to partner with Constant Contact to host local events and seminars which give me the chance to get in front of valuable leads for my business."
As a Master Certified Solution Provider, Vito also has access to Constant Contact's lead sharing program, which helps match consultants with small businesses in need of marketing services.
The steady stream of new clients that come through the partnership has played an important role in helping Vito grow his business.
But as Vito explains, the ongoing benefits for his existing clients have also helped drive important business results.
"I've been able to expand on the services I offer my clients which has allowed me to provide greater value to their business," Vito explains. "When you help your clients succeed, they're going to come back time and time again because you're generating that positive return on their investment."
In addition to the new and repeat business that's come from participating in the program, Vito also has the opportunity to take advantage of Constant Contact's industry-leading revenue sharing program.
"Consultants can build out a great business as a partner with Constant Contact," Vito explains. "The revenue growth I have seen as a result of being a Partner with Constant Contact is truly amazing."
Does your business offer marketing services to small business clients?
Partner with Constant Contact! With over 650,000 customers and 11,000 Solution Providers, Constant Contact is a brand both your business and clients can trust.
If you offer online marketing or consulting services tailored to the needs of small businesses or nonprofits — like strategy, web design and development, or email and social media marketing, and more — we want to partner with you.
Learn more about how you can grow your business as a partner in the Constant Contact's Solution Provider Program.
This is the second in a series of six guest posts I am writing for Constant Contact on Content Curation versus Content Creation.
Today, we look at content curation: what is it, and which social networks work best for curating content.
Really simply, success on social media boils down to putting out high-quality content in a consistent manner.
Your followers come to appreciate your consistency and value your content, and this creates a trusting relationship.
They begin to look at you as an "expert," and that has some pretty great rewards. It's the hinge on which all business transactions take place.
The problem with creating content all the time, however, is that it's incredibly time consuming. Additionally, even if you had the time, you may not have the inspiration, or ideas, to create content multiple times per day on multiple channels.
That's where content curation can save your life.
Becoming a content curator is a bit of work up front, but once you have a system in place, it can save you tons of time. You'll be able to curate content and share it with your followers in only a few minutes a day. I'll show you how in a future post.
But for now, let's look at which social media networks lend themselves best to curating content.
Remember: when you're curating content, make sure it's related to your brand. For example, if you are an accountant that specializes in small businesses, any hints or tips you can find about taxes, accounting, or small business practices is fair game to share. You'd want to stay away from, say fitness tips and recipes, as those are not related to your brand.
Twitter
Twitter is my #1 content curation tool. Facebook posts have a lifespan of a few hours, but Tweets have a lifespan of only a few minutes. I recommend to beginners that they tweet about three times a day, morning, noon and night.  However, more advanced users can tweet much more, and still get away with it.
These days, on average, I tweet about 17 times a day. Some of those are @replies and conversations, some are tweets about content I've created, like blog posts, but usually around 5 tweets per day are curated tweets — ones I've shared from reliable sources that I follow.
Tip: I use Hootsuite's Syndicator and their auto scheduling feature to streamline this process.
Facebook
Now that organic reach has become so low on Facebook pages (less than 10 percent), many people are posting more often to their pages in an attempt to get better numbers.
I love the Facebook scheduling tool. You can sit down and schedule up an entire week's worth of posts in one sitting. I recommend at least one post per day on Facebook, but if you do multiple posts (say, 3 a day), make sure you schedule them to go out at different times of the day.
And don't forget to use visuals and video — they are doing really well right now. Check out Post Planner — lots of great content here, and you can schedule it to Facebook from right inside Post Planner.
Email Newsletters & Blogs
One of my favorite examples of this is Mari Smith's The Social Scoop. Every week, I get an email from her with 3 really great articles about social media. I immediately tweet them and share them on Facebook, because I know they are going to be good.
I even started a similar e-newsletter, using Constant Contact, called Blogging Mastery.
There are also plenty of industry websites and blogs that publish weekly digests of their favorite blog posts and articles which you can use to find content that's popular in your industry.
How could you apply this idea to your business? Well, to go back to our accountant example, you could send a monthly e-newsletter to your clients with several great articles or resources that include tips about small business or accounting. Make your content so great that they can't wait to see your email in their inbox every month!
Pinterest
Pinterest is one of the top curation tools. Pinterest allows you to create "boards," to which you can "pin" or bookmark, blog posts, articles, and resources to which you want to come back to later.
But unlike browser bookmarking, Pinterest is public, people can re-pin your stuff, and it has the potential to go viral. Our accountant could create boards for "Tax time," "Savings," "Small Business Hacks," or "Retirement." They could then pin to these boards, any articles that they know will be useful. Lastly, they can revisit these articles when they need content to share on their other networks, like Facebook and Twitter.
YouTube
While many people still think of YouTube as being mostly for cat videos, there is also a ton of great content on here. You'll find a ton of tutorials here, and you can create playlists of this content on your own account. So, our accountant, for example, could curate a list of videos that teach Excel shortcuts and hacks, for example.
Now that we've had a look at which social networks work best for content curation, next month, we'll look at some of the tools you can use to curate content.
What's your favorite network for content curation?  Share in the comments below.
About the author: Rebecca Coleman is a blogger and social media marketing strategist. She teaches classes in social media marketing at the British Columbia Institute of Technology in Vancouver, BC. She loves Constant Contact, and just started a curated monthly email called Blogging Mastery, where she gathers the best articles on blogging from around the web every month. You can sign up for it here.
Welcome to a six-part series of guest posts that I am beyond excited to be writing for the Constant Contact Blog.
Over the next few months, we'll focus on the topic of Content Creation versus Content Curation.
What are they? What's the difference between them? And what purpose do they serve?
How can they help you to grow your following and populate your feeds? What are the best practices?
These are all questions we'll tackle in the course of this series.
But first, let's start with some basics.
You've all heard the expression, "Content is king." But what does it mean?
When it comes to online marketing, those that have the best content win.
Simply put, people will follow you and subscribe to your email list if you offer good content. Let me give you an example.
I'm a big fan of Mari Smith. She's my go-to gal when it comes to knowing what's happening on Facebook (and let's face it, Facebook is changing on almost a daily basis, so it's really important to keep up-to-date).
I subscribe to Mari's weekly e-news. Now, I subscribe to a lot of e-newsletters, to be fair. But Mari's is different. I have trained my Gmail to have her newsletter come straight into my primary inbox, not to one of the tabs, and every week when I get it, I open it eagerly.
She shares usually three links to blog posts that are always, and I mean always, exceptionally good. I then share those posts with my followings on Facebook and Twitter.
I'm eager and excited every time one of Mari's emails hits my inbox, because I know the content is always going to be good. It's been proven again and again. She offers valuable content, and offering that value has garnered her a huge and loyal following, and most recently, a job at Facebook.
Offering valuable content to your followers will get you more followers because people will be liking and sharing your content. It gives you social proof in the form of retweets and shares. Your followers will recommend you to others (as I just recommended Mari to you).
The problem with offering valuable content is that you can't always create it.
Let's face it, you're just one person. What are the chances that you'll come up with solid gold content from your head every day of the week? Unless you're a best-selling author like Seth Godin, I'm guessing the chances of this happening are pretty small.
However, you can come up with great content sometimes — like maybe a couple of times a week. But you can't just fill your Facebook feeds a couple of times a week. A steady stream of posts is the way to go. So, to fill in the holes on days when you don't have original content, you can use content curation instead.
Content curation, while not original content that comes from your head, is still incredibly valuable.
You see, curation means you have done the work for your followers. You might follow hundreds of blogs, but you pick out the very best posts to share with your audience. You've saved them time and energy, and that's incredibly valuable.
In future posts, we'll get deeper into these topics. We'll look at, for example, what the best networks are for content creation and content curation. We'll look at best practices, and I'll share some inside tips and tricks to make your curation easier and faster.
Takeaway:
Think about your own online presence.
Maybe you have a Facebook Page, maybe you tweet, or you're on Instagram. Hopefully you're using email to stay in touch with your audience and have a newsletter that you send out on a regular basis.
Think about each one of those channels from a curation versus creation point of view. Are there social media channels where you do more of one than the other? And if, for example, you primarily lean towards content creation, say on Facebook, can you think of a way that you can integrate more curation into your feed?
Look for resources that your audience will find interesting, and try content curation for yourself. If you want to learn more about how I use content curation, subscribe to my monthly Blogging Mastery email. I'll compile some of my favorite articles on blogging and share them with you every month. You can sign up for it here.
Until next time, happy curating and creating!
Let us know your content creation and curation questions in the comments—we're here to help.
About the author: Rebecca Coleman is a blogger and social media marketing strategist. She teaches classes in social media marketing at the British Columbia Institute of Technology in Vancouver, BC. She loves Constant Contact, and just started a curated monthly email called Blogging Mastery, where she gathers the best articles on blogging from around the web every month. You can sign up for it here.
With the one year anniversary of the Canadian Anti-Spam Legislation (CASL) fast approaching, Constant Contact recently surveyed Canadian consumers and small businesses to get their opinions on email marketing, and the impact of the legislation.
What did we uncover?
Canadian consumers rate email as their number one method for staying in touch with businesses — by a landslide.
Sixty-eight percent prefer email compared to just 12 percent who prefer staying in touch via telephone, 8 percent via direct mail, 7 percent via in person conversations, and 5 percent via social media.
Not only do Canadian consumers prefer to stay in touch with businesses via email, they also spend a lot of time in their email inbox — an average of 1.2 hours a day. Eighty-four percent check their email at least twice per day, with 38 percent of those checking six or more times.
So what's the issue?
Despite the fact that Canadian consumers want to stay in touch through email, not all Canadian small businesses are maximizing their email marketing efforts and almost 40 percent aren't taking advantage at all.
While the majority of small businesses (63 percent) use email to stay in touch, 61 percent of them use mailbox providers like Gmail™ and Outlook®, rather than an email marketing service provider, to do so.
That's a problem because those mailbox providers offer no way to maintain CASL compliance, through features like permission tracking, CASL-compliant email list signup forms, and unsubscribe functionality. Nor do they maximize marketing efforts through mobile-responsive templates, list growth tools, and results tracking.
Another 37 percent aren't using email at all, and only 19 percent of those are considering adding email to their marketing mix this year — a clear missed opportunity in light of the consumer survey results.
Businesses still see value of email marketing in a post-CASL world.

For small businesses that were using email marketing when CASL went into effect, much has remained unchanged. Most small businesses (70 percent) have continued to use email marketing as they had always done, and some have even increased their efforts (9 percent), or started email marketing for the first time (6 percent). Only 13 percent have decreased their email marketing activity and just 2 percent have stopped altogether.
Email list size has remained mostly consistent with a pre-CASL world.
Sixty-five percent of small businesses' mailing lists have stayed the same post-CASL, while 25 percent have decreased list size and 10 percent have increased list size.
CASL has also had minimal impact on business metrics for individual small businesses, who stated that the effect on customers, prospects, profitability, gross revenue, and overall success largely remained unchanged.
About the Data
This data was compiled from two Constant Contact-sponsored surveys, deployed to a Research Now panel of 501 Canadian small businesses and 502 Canadian consumers in April 2015. These surveys are part of an ongoing series addressing the impact of CASL for small businesses across Canada.
Want to learn more about the survey? Check out our eBook for the full results. 
When The Local Good first got started with email marketing, they were in a position a lot of businesses and organizations can relate to.
Without an existing list of email addresses, they had to build their list from scratch — one name at a time.
As a nonprofit that specializes in helping the population of Edmonton, Alberta live a more green and sustainable life, the team behind The Local Good was confident in their ability to build a dedicated and long-lasting community.
And that's exactly what they did!
Over the course of a few years, they grew their email audience from zero to more than 3,700 contacts. That audience has become one of their most valuable marketing resources, helping them gain exposure, host full events, and surpass fundraising goals.
You can do it too. Growing and maintaining an email list can take some work but when done right, the payoff can be huge.
Here's a closer look at how The Local Good did it:
1. Choose a reliable email provider
The first step of building a loyal email list is making sure you have a safe place to store your contacts' information and an easy way to send them mailings. For The Local Good, choosing the right email provider started with looking into what other businesses in the area were using.
"We wanted a secure way to store our contacts, and we wanted access to a lot of different email templates," says Ally Whittaker, public relations manager for The Local Good. "We found out about Constant Contact from other businesses in our community that were using it. We tried it out, it worked for what we needed, and then we just kept using it."
2. Create a plan and set expectations
Once you choose a provider to work with, you're ready to think about what kind of messages you want to send out.
Start by answering a few questions like:
Who are your contacts?
What are they interested in?
How often do they want to hear from you?
For The Local Good, hosting and promoting a variety of local events means they are reaching out to subscribers on a weekly basis.
The timing of your newsletters depends on how often you have something relevant to share. After you decide on a general frequency, be sure to make your mailing list aware of this so that they can be on the lookout for your email in their inbox.
The Local Good lets their audience know how often they'll be sending right on their website sign-up form. That way, subscribers will know what they are signing up for and look forward to future messages.
3. Make sign-up simple
"People usually won't go out of their way to sign up for an email newsletter," says Ally. "You have to push for it yourself — whether at an event or online. Make it available on every page of your website."
Even if you feel like you've been promoting your newsletter for a while, don't forget that this information will still be new to your new customers or members. You shouldn't assume they'll always seek this information out on their own.
A simple sign-up form online or in-store can go a long way, but don't forget about options like Text-To-Join or the lead generation landing page for social media profiles.
Permission is also an important consideration when collecting contact information. With the recent CASL policy going into effect last summer, Ally and her team have revisited their sign-up experience to ensure they have the proper consent for their contacts. "We know the people who sign up have actively chosen to sign up," Ally explains.
4. Deliver a personal experience
One of the most important things you can do with your email newsletter is to send something unique to your audience.
Write your emails with your audience's interests in mind. Point them to content about topics you know they're interested in — whether it's an original blog post or curated content. Include a special offer or promotion when you can, and experiment with different types of media like images and videos.
For The Local Good, one of their biggest goals with their email marketing is to increase event attendance. Their newsletters are equally informative and upbeat to generate excitement for upcoming events.
Here's an example of a recent newsletter where they included five reasons why members should attend a "Green Drinks" event.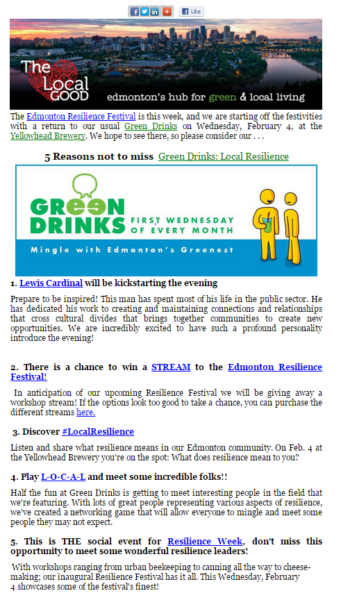 5. Use your reports
Using your email reports can help you answer important questions like:
Who are your most engaged audience members?
What kind of content are they enjoying the most?
How are your emails driving real results for your business or organization?
Ally tracks her results and makes regular improvements wherever she can. This includes trying out new ways to present content, and also regularly going through and updating contact information.
"I think one of the reasons our email open rates stay so high is because when our emails bounce back, I go through and remove these contacts each month," says Ally.
Managing email bounces and updating contact information or removing contacts with ongoing issues is easy to do within email reports. By using her reports and staying on top of her email list The Local Good sees an average open rate of 37 percent.
In addition to open and bounce rates, Ally pays attention to her click-through rate. This is one of the strongest indicators that the emails are driving business results in the form of increased donations and event attendance.
"Email has definitely helped us with web traffic and attendance at our events. I like that after I send an email out, I can go back and see how many people clicked through on which links. That way I can tell people are interacting with our content and click through to our website," Ally explains. "I always track sales for our events after our emails go out. We always have a little surge after emails go out."
Make sure your email relationships are built to last
Here are some additional resources to help:
You know building awareness for your business is important.
But how do you stand out and actually get the attention you need to reach new customers and generate new opportunities?
This was the dilemma faced by Davidson & Company, LLP, a full-service accounting firm located in downtown Vancouver.
"One of our taglines is that 'We're not your typical accounting firm'" explains Bahar Saadat, client relations & marketing manager at Davidson & Co. "Traditionally, accountants have a reputation for being boring 'bean counters' but we want to show people that we have personality, and that we have real people that are great to work with."
For Davidson & Co, building awareness means having a way to stay top-of-mind with existing clients, and being able to reach potential clients in the process.
For the last two years, the firm's best tool for reaching these audiences been email marketing from Constant Contact.
"We started with email marketing to communicate and share industry updates with our existing clients," Bahar explains. "But it's really grown into one of our best drivers for brand awareness. We're noticing more people talking about our business, and we have more people showing up at our events."
If you've been struggling to get the reach you're looking for, email marketing can help. Consider these four tips from Davidson & Co to help you get started:
1. Ask for permission
Growing an email list can take some time, but as Bahar has discovered, it's better to collect email addresses the right way, rather than trying to take shortcuts.
"We're careful to only add people to our list that we've met and have an existing business relationship with," Bahar explains. "When you let people know what they're going to receive — for us that includes information about our events and industry news— people are very willing to sign up."
Getting permission has proven to be particularly important for Davidson & Co, following the Canadian Anti-Spam Legislation (CASL), which went into effect on July 1, 2014. The legislation introduced new requirements for businesses to obtain consent before sending marketing messages.
"I know there were a lot of business that were worried about CASL, but for us it really hasn't been a problem at all," Bahar explains. "We reached out to our audience to let them know that we were aware of it, and gave them the option to update their subscription and an overwhelming number of people said they wanted to keep hearing from us which was great."
2. Put your audience first
Asking permission will get people onto your list, but once they've signed up it's your responsibility to provide something of value.
With an average open rate higher than 50 percent, Bahar has found that one of the best ways to provide that value is to start with her audience and understand what they're most interested in receiving.
"It's all about providing something that's relevant to them and promotes engagement," Bahar explains. "When we started out, we were just really sharing a graphic with a short message or announcement, but over time we've paid attention to what resonated and began to introduce more and more."
The firm recently used audience feedback to tweak their strategy and make video a central part of their marketing strategy.
"We thought video would be a fun way to humanize our firm and show the people behind the scenes," Bahar explains. "It really took off, even to the point where we are running into clients and they are telling us how much they enjoyed a video we sent out."
The firm has also sent an online survey to a segment of their client base to learn more about what they're interested in receiving.
3. Share your knowledge
You'll get more people opening your emails when you shift your focus to providing content that's interesting to your subscribers — which is a great first step towards email marketing success.
The next step is to understand what type of content would get people to take an additional action.
For Davidson & Co, that means sharing helpful advice and offering the chance to learn more at in-person events.
"In the past, we had relied on print invitations to promote our events and that made it difficult for people to share the events and invite other people," Bahar explains. "With email, we have people who open and read our invitations but also share them with others. It's a good sign when we're meeting new people at our events that we didn't send an invitation to. Email has played a big part in that."
4. Be consistent
Consistency is important — both in the look and feel of your messages, and in the frequency that you communicate with your audience.
Email templates make it easy to create professional-looking messages that can be customized to match your brand.
"We put a lot of thought into how we put our marketing together because we want people to get to know our business," Bahar explains. "Our goal is to really humanize our business, so each message that goes out will have a video or photos of our staff or clients."
They use that same consistency when deciding what time and how often to send to their audience.
"In an industry like ours, it can sometimes take a few years before you actually convert a new client," Bahar explains. "So, we really focus on being consistent and building the relationship anyway we can."
Each month, Bahar and her staff put together an outreach plan that aligns with industry activities and events. With a list of over 3,300 contacts, Davidson & Co has built an audience of people who care about their business and look forward to hearing from them each month.
This has resulted in new business opportunities, increased referrals, and greater brand awareness for their firm.
"We all know accountants love numbers, and with email the numbers don't lie," Bahar explains. "It's been the most effective tool for delivering our message."
Put your email marketing strategy into action.
Whether you offer services to other businesses, like Davidson & Co, or want a better way to build relationships with customers, email marketing can help.
Get started today. Start your free 60-day trial of Constant Contact.
Has email marketing helped your business build brand awareness? We'd love to hear from you. Share your story in the comments below.