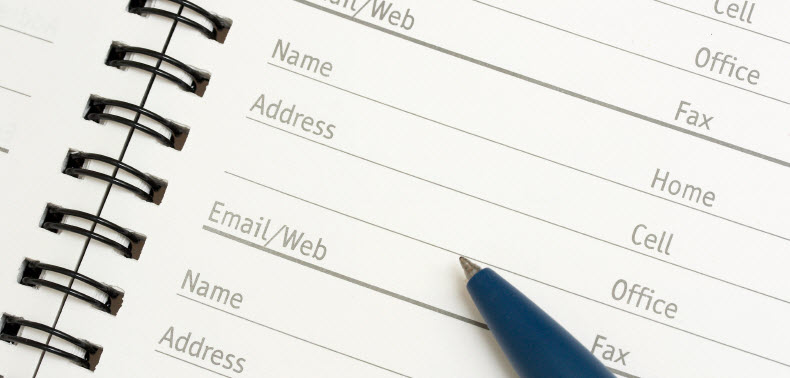 A business or organization's contact list represents past, present, and future business opportunities.
We wanted to know where small businesses and organizations are storing this key business asset, so we asked our Facebook fans in a recent poll.
We found that Microsoft Outlook is the no. 1 place our Facebook fan participants are storing their contacts (43%). Outlook is followed by Constant Contact in a distant second (11%), a spreadsheet in third (8%), and business card/rolodex in fourth (6%).
To help you save time in managing your own contacts, here are some useful Constant Contact integrations you might not know of:
Constant Contact offers an integration with Microsoft Outlook. With the free QuickImport for Outlook tool, you can upload individual contacts or groups of contacts, select the contact details you want to import and the lists you want to transfer them to, and even create new lists within QuickImport.
What if you keep contacts in a customer relationship management tool like Microsoft Dynamics or in an invoicing/accounting tool like QuickBooks or FreshBooks? Or a donor management tool like DonorPerfect? Constant Contact integrates with most CRM, business management, and donor management tools to help you automatically sync your contacts and segment your lists based on interest, sales cycle/relationship status, and purchase/donation history. You'll find these integrations in our app MarketPlace.
How about all those business cards you've been collecting when networking or attending conferences and tradeshows? Organizing, accessing, and adding them to your mailing list so you can start building relationships takes time and effort. The Shoeboxed integration lets you turn your business cards into Constant Contact contacts without typing. You can send your business cards via mail, mobile app, scanner, uploader or email. Shoeboxed scans, extracts, and data verifies the contact info and makes it ready to import into your Constant Contact lists.
Do these poll results match your own behavior? We want to know! Add your vote or share your thoughts in the comments field below.