When it comes to your email marketing efforts, you always want to be growing your contact list.
But what's the best way to do that, and which tools are available?
We recently asked our Facebook fans about the list building tools that interest them the most. And now the results are in!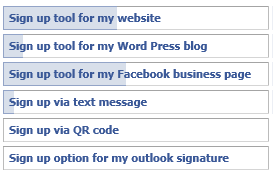 Two list growth tactics topped your list:
1. A sign up tool for your Facebook Page garnered the highest interest at 46%. Smart choice!
Capturing the email addresses of your Facebook fans is a great way to increase the reach of your emails because Facebook fans have the widest network to share your message — through both their inbox and their own Facebook profiles.
According to a JanRain study, the most popular content sharing destination is Facebook at 54%. If you don't yet have a sign-up option on your Facebook Page, use Constant Contact's free Facebook sign-up app.
2. A sign up tool for your website earned the second highest interest at 43%. Another great choice! This list-growth tactic has shown to be even more effective than a Facebook sign-up option.
According to a recent Constant Contact study, the most effective list growth techniques used by small organizations are:
1) offline list growing techniques such as business cards, sign-up sheets, and comment cards (62%)
2) email sign-up forms on website (54%)
3) email sign-up forms on blog/newsletter (40%)
4) Facebook sign-up application (27%).
If you don't yet have a sign-up option on your website, here's a free website sign-up form for Constant Contact users.
Does your interest in list building tools fall in line with our Facebook fan participants? We want to know! Vote in the poll or add your comment below.