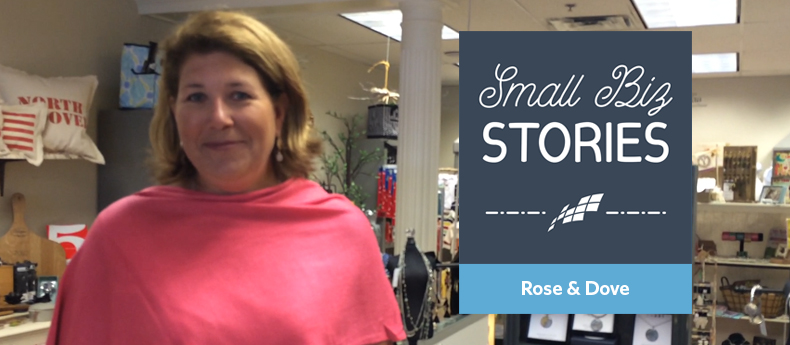 Kellee Twadelle, owner of Rose & Dove Specialty Gift Shop, is proud to own her own business. In this episode, Kellee shares how support from her local business community, quality staff, and loyal customer base keep her business going strong throughout various industry changes and personal challenges.
Small Biz Stories tells the story of some of the bravest people you'll ever meet — small business owners.
You'll hear how they got started, their biggest challenges, and their dreams for the future.
Podcast (small-biz-stories): Play in new window | Download
Subscribe: Apple Podcasts | Android | RSS
Find us on Stitcher
You can also read the transcript below:
Small Biz Stories is brought to you by Constant Contact. Constant Contact is committed to helping small businesses and nonprofits connect to new and existing customers with email marketing. Find out more at ConstantContact.com.
Kellee: It was nice sort of being in charge of your own destiny. Then again on the flip side, there's so much pressure in wanting to make it succeed and that always in the back of your head, that chance of failure. I think seeing my father and how successful he was, that fear of failure, I sort of had this drive. "I've got to just keep going and running with this and changing and mixing it up and evolving." I think anyone who goes straight to starting their own business has got such great moxie. My hat is off to them because that's pretty amazing, too. At least I've got a base, a foundation of . . . I was a project manager, so I kind of knew how to approach certain things and events and I'm like "Okay. I can kind of use that template." But someone coming, brand-new, that's pretty incredible.
Dave: Earlier this year, we surveyed small business owners to hear about the sacrifices and rewards of owning your own business. It shouldn't come as a surprise that 59 percent of those surveyed agreed that the freedom to try new things, make your own mistakes, and control your destiny is the best part of running a small business.
As important as personal freedom is to many owners, listening to their stories has shown that no successful business is truly self-sufficient.
Today you'll hear from Kellee Twadelle, owner of Rose and Dove Specialty Gift Shop. Kellee shares how support from her local business community, quality staff, and loyal customer base keep her business going strong throughout various industry changes and personal challenges.
More than fifty percent of small businesses fail within the first five years. These are the stories of those who beat the odds. My name is Dave Charest and I'll be your host as we share the stories of some of the bravest people you'll ever meet, small business owners. You'll hear how they got started, their biggest challenges, and their dreams for the future.
Dave: Unlike a few of the other business owners we've talked to, Kellee didn't start off her career as an owner. After spending over a decade working in the corporate world, Kellee shifted her focus to explore other talents.
Kellee: We moved to North Andover back in 1998 and at that point, I was a stay-at-home mom raising two kids. By the time they both got to elementary school, I started getting antsy and wanted to sort of tap into the artistic side. I had been doing 12 years in system conversions. I had a master's in computer science. It's a pretty intense, rigorous 24/7 job and didn't want to go back to the corporate world. I actually started making jewelry and going to craft fairs and traveling around selling to stores. Then just being in the retail environment, realized that's something I just wanted to sort of tap into and start my own business. That's how Rose & Dove evolved.
Dave: When it came time to move beyond making her own product, and expand to a retail location of her own, Kellee initially pulled inspiration from her corporate background.
Dave: How did you get to that point where you're like "All right, it's time to do my own shop" rather than bringing your wares around to others?
Kellee: I think I liked the idea of having diversity in product and selling . . . I've sort of gotten a taste of the wholesale side back and selling to retail stores, sort of the retail side being in the festival environment and just wanted to expand upon jewelry and offerings. At the time, the model was corporate. Targeting companies, because that had been my background, for gift-giving to their clients to say "Thank you," to give around for their employees.
We did a lot with food and gift baskets. We had our wine license. For a while, that was working. But then when the economy changed, the whole model had to change and we shifted to more of . . . we changed our tagline. I worked with a marketing person and more towards the line of "Artful and affordable gifts for everyday occasions." Finding something that wasn't going to break the bank, but was a nice gift, it sort of represented who they were gift-giving to. It was just that price point level. It started with small gifts and then just sort of expanded.
Dave: In addition to her own professional experience, Kellee's inspiration for Rose and Dove comes from her father, who served as an important role model and motivated her to persevere through some early business challenges.
Dave: Where does the inspiration for the store come from? Was anybody in your family an entrepreneur? Did anybody else own a business?
Kellee: My dad was blue-collar, I should say, he was an electrician. He really instilled, I think, a strong work ethic in myself in terms of . . . I think just setting a goal and working towards that and doing everything you could to make it successful. I spent a lot of long hours in Lawrence sort of building the business. How do we build our customer base? For me, the most important thing is our customers. We have such a loyal customer base, it's amazing. They have supported us in Lawrence and then when we moved to North Andover, they came and supported us here.
That's really the premise of the business. I think that drives me to find new products for them every year so they have got diversity in the gifts that they're giving and there's always something new and fresh for them.
Dave: Did you ever receive any push-back when you . . . "All right, I'm going to start my own business."
Kellee: Absolutely. It's the typical . . . the syndrome of a small business owner. You've got that panic. Those first couple of years are so trying. And I just threw myself out there. I had no idea what I was doing. I had no marketing background, I had no business background. It was a lot of trial by error and you learn and you build upon it and you try not to look at it as a setback. Just say "Okay, what can I take from this?" Then figure out "Let's move forward." Put that behind and how can we turn a negative into a positive?
Dave: Can you tell us a little bit more about that? What were some of the hardest parts for you when you were starting out?
Kellee: I think it was the location of the business. I really loved the charm of the historic building, the mill building that we were in. It was during a process of where Lawrence was going through the whole Gateway Revitalization Project. I really thought that there was momentum in a five to ten-year pace that they would be on track and there would just be this viable . . . just bring all these old buildings back to life.
Unfortunately, one of the larger developers lost his funding because he had sort of the "Go Green" concept and they found asbestos in the buildings. That really set, I think, that whole project back years. Then with the bridge closing, I wasn't getting the traffic from Andover which is one of our . . . we have a significant number of customers from Andover. At that point, I had to really think about "Okay, where are we going with this? What are we going to do?"
I loved the concept of the store, people loved the product. Instead of being a destination store, I had to find somewhere we could be an anchor and really be visible.
Dave: Making her business visible and growing her customer base has relied on strong communication with her existing customer base. Kellee began using email marketing in the early years of her business as a way to keep in touch with her customers and keep them up-to-date on the products she has in-store.
Dave: What were the most challenging aspects for you besides finding the location in those beginning years?
Kellee: It was the marketing portion of it. How do you get the word out that you're there? There's the print and direct mail and those are so costly. Then there's building your database and we were from it, the get-go, really consistent about gathering our customers' information once they came in and having a system in place that we could track their sales. What is the hot thing right now? What's trending in terms of jewelry? Are we doing better in baby or bridal versus home accents, tabletop?
We could gauge the back end in our buying part of it by capturing their e-mails was probably the smartest thing we ever did. Because then through software programs like Constant Contact, we were able to touch, but not inundate them. We always were of the philosophy of sending one to two e-mails a month, just letting them know sort of what's new, what's happening, events, special events. Making them feel special that "Thanks for supporting us in giving your e-mail' and that's how we do a lot of special offers out through those e-mails.
Dave: You mentioned you send an e-mail out about a couple of times a month or so. What are some of the things that you do in there? What is your approach to doing that?
Kellee: Obviously, the time of the year. I'll start the beginning of the year and be like "Okay, we have 12 months to plan out." So I have 24 e-mails, basically, that I want to send out, so what's going to be my focus? We base them around the larger occasions like Valentine's Day. Teacher appreciation is huge for us. Mother's Day, Father's Day, back to school and then going into all the holiday. That's really what drives the premise of the majority of my e-mails.
We'll do occasionally . . . we've got our annual tent sale which is huge that everyone looks forward to. Unfortunately, it's the byproduct of sometimes me overbuying or the lines that I thought "Oh, this is going to be great" and not so much. The people always know that they can get a great deal at the tent sale. We've got sort of a contingency of following of people who come every year for that.
But it's really . . . not so much in terms of providing a coupon or discounting. But just to say "Hey, this is new. This is what we're doing. This is an event coming up. We're partnering with X, Y and Z. Come by and check us out." We do a lot with Mariposa. That's probably our number one brand that we sell. We're one of their ten top nationwide dealers, which is pretty impressive for being 1,200 square feet.
Mariposa is all over sand cast aluminum gift ware. It's tabletop, but a lot with bridal. Then seasonal, Seashore does really well for us. They're local, they're up in Manchester. I just love working with them and their artist, Michael Updike. He comes in and he does a lot of artist signings for us. That's really fun. We use Constant Contact as a way to go out and sort of capture the masses through that.
Dave: In addition to working with online channels, Kellee reaches new customers by getting out in her community and partnering with other local businesses.
Dave: What were some of the other things that you were doing in the early days to make sure people could find your business, whether that be online or offline? How do those two interplay?
Kellee: We did a ton of working with other businesses, partnering with other businesses, finding similar likes and interests. Either a hair salon and partnering in an event and having them come in or me going to their store and vice-versa and just sort of either be there just as a representative to say what we do, what we're about, hand out a discount card to the store for them to come and check us out. Schools in terms of doing a lot of charitable contributions and working with organizations and giving donations to their raffles, gift certificates so that whoever wins comes back into the store and sees what you're about.
The partnering was probably one of the best things we could have done. Because we sort of tapped into different segments of the area. Worked with real estate brokers, we do housewarming gifts for them. The direct mail, it was tough because like I said, it was very costly, the print advertising in a magazine. We did all of that. It was just kind of having a budget and breaking it out throughout the year to see "Okay, let's throw a dart and see what's going to stick this year."
Dave: While many business owners know the importance of partnering with noncompeting businesses in their community, many struggle to put themselves out there. I asked Kellee if she faced disinterest from other businesses and how she is able to forge relationships that are mutually beneficial.
Kellee: I had several that just weren't interested. They felt that they were fine and they're comfortable with what they were doing and they didn't need to sort of outsource in that respect. I joined networking groups, so I was part of BNI (Business Networking International). Through there, you had up to 40 industries present. You could sort of pick their brains and figure out "Okay, what would make sense?" and "What are you doing next week? How are you sort of getting out there?"
Through that networking group, there would be four to six of us that would kind of go together and say "Hey, let's do this." That was kind of good having that base to bounce ideas off of. Because I never had a partner that I could say "Hey, what do you think about doing this? Does this make sense? Does it not make sense?" It was always just me and I felt most of the time, I was just flying by the seat of my pants.
But I felt if I didn't put myself out there and get the name of the store visible, people weren't going to find us. The networking group definitely helped. Chamber of Commerce definitely helped, going to a lot of their networking events. They held a bunch of speed networking. That was great because you had your one-on-one, you had three minutes to pitch your store, and what you do, and your product. Versus being in sort of that big environment if they have an event at such and such place where it's definitely more going to drink and win the raffle prize there.
I found those speed networking events really helpful. Because you have that one-on-one and you met 20 different people that way.
Dave: With the help of these partnerships, Kellee reached her early business goals and began growing steadily. Soon after, she started thinking how to expand internally and add a few new staff members to her team.
Kellee: Actually, all of our staff have been customers. The longest member, Cheryl, she's been with me now five years since I moved the location here. She's great. They're all part-time, all moms. I think we all . . . I understand the most that your family comes first. That's always been the basis of . . . I understand if you've got something to do, that's where you need to be.
But they equally enjoy . . . I think that they're just looking for an outlet. They've got a creative side to them. They enjoy working with people. They know a lot of people in the community. Everyone who works for me right now, it's great. I have one woman from Andover and then I have another mom from town who's working with us. I also love hiring high school students. We've had a couple of high school students that come in, especially during the busier times to help us out or if we have a large corporate order, they'll help me with that.
I think it helps them to sort of see the part of the business that they wouldn't necessarily . . . they can see the retail being on the floor, but then sort of the back-end from a larger order. I have one college student; she used to work for us when she was in high school and she comes back every Christmas and every summer now.
I think being in that mode and we've been in for three years now, have had that sort of same staff, it's been great. It's helped tremendously. If you have people you really enjoy working with and can trust, it makes a world of difference.
Dave: As a manager, Kellee is understanding of her staff's work/life balance because it is something she's had to juggle as well. After navigating some personal challenges of her own, Kellee has worked to develop a staff that she trusts to handle her customers and products with the same level of care she provides each day.
Dave: Was there ever a point where you felt like "This might not work"?
Kellee: Yeah. I've had many days like that. It's hard. I think it's when you're . . . for me, I find it's fourth quarter because that's obviously where the bulk of our business is and it's going through . . . when you're a sole provider and you have to be there 24/7. I had a couple of blips in the radar with my husband. He, one year, was in a motorcycle accident and in the hospital for three months. That was kind of dicey. "How do I juggle that?" Then he had a heart attack two years ago and that was right on Thanksgiving. It was like "Okay, I've got to remove myself. How is the store going to operate without me there?"
I think that was sort of the tip of the iceberg in terms of changing things, in terms of the store . . . that day-to-day operations didn't physically depend on myself. That I had a good backbone and staff, that the store could operate without me here. I'm still part of the day-to-day operations, but I've sort of put into place . . . we've got enough staff that it's covered and then I'll never be in that position again of "I've got to close the doors. I can't be open for business because I'm not there." I think that's one of the hardest things.
Dave: What keeps you going through those tough times?
Kellee: I think it's how much time I've put into it, that I've invested into it. Rose & Dove is my heart and soul. It's definitely . . . everything in here is representative of me. I wouldn't bring something in here if I wouldn't want to buy it personally or if I wouldn't want to wear it or have displayed in my home. It is a representation of me and sort of my loves.
I think people recognize that and they know that I'm constantly looking for that new, next big thing and I'm willing to take chances with a lot of the products we bring in.
Dave: Although Kellee has had to make major changes over the years — in terms of product offering, location, and staff size — one thing that has stayed consistent is her commitment to an exceptional customer experience. While Kellee and her staff are happy to tell you about any piece on the store, they won't pressure anyone into a sale that isn't a perfect fit.
Dave: You're touching on this a bit, but what would you say makes your business different from others out there?
Kellee: I think it's the level of the customer service that we provide. We are not a high sales pressure store. For me, I have an amazing staff and they all equally enjoy working here, the products that we have and the customer interaction. It's really making someone feel at home the minute they walk in the store and asking how we can help them.
But social conversations, catching up, how everything is going in their lives. Then just helping them find a gift. They just come in . . . a lot of people say this is their happy place. They'll just come in and walk around and not buy anything; that's fine by me. This is their place to come. They're looking, they're staying, they're thinking about . . . and it could be six months to a year, they come back and say "Oh, I remember seeing this. This is the perfect gift for someone."
To me, that's the type of business I want to have. I want people to know that we're reliable, we've got a great offering, that we're changing our selection all the time. But also, you can buy something for $5 or you can buy something for $200 and I'm going to treat you the same as anyone else. It's really . . . it's like the level of the customer service. I want my staff to treat our customers the way I would expect to be treated when I walk into a store.
Dave: Yeah. How do you measure success? What does that look like to you?
Kellee: Obviously, there's the financial component of it. If I'm making my numbers and I'm able to pay . . . I have four employees right now. If I can support that, I consider that a fairly successful business. I also look at the level of our customers and their satisfaction and how happy they are. Especially . . . I'll be in the supermarket and someone will come up to me and be like "Oh, I gave that gift to so and so and it was perfect and you nailed it right in the head" and they were so happy. I think they love how they look in the gift-giving process and they loved seeing the response of their recipient getting the gift.
I really measure a lot of it based on that, our customers' sort of happiness.
Dave: Even as a small business owner, it's important to remember success is sweetest when shared with others. While it's incredibly empowering to pursue your own dreams and make decisions for yourself, some of the best parts of your business will be when you are interacting with the people that matter most to your business. After my conversation with Kellee I'm reminded of the importance of valuing your customers, staying open to collaborative opportunities with other business, and treating your staff with respect.
I'll leave you with one last piece of business advice from Kellee:
Dave: If you could give somebody else just starting their business a piece of advice, what would that be?
Kellee: Trust your gut. Understand that you obviously have a dream and I think if you work hard, you can make that dream come true. It's going to take time; it's not going to happen overnight. Just be patient. Set short-term goals. Don't think about that ten years where you're going to be . . . just so that you understand the success as it's sort of happening. It might be small, but each of those successes are going to build into something huge and amazing.
Dave: We appreciate you listening and would love to hear what you think of the show. Your feedback is important to us, so please go to iTunes or Stitcher right now and leave us a review.
Small Biz Stories is produced by myself, Dave Charest, Shaun Cronin and Miranda Paquet. You can contact us at podcast@constantcontact.com
Small Biz Stories is brought to you by Constant Contact. Constant Contact is committed to helping small businesses and nonprofits connect to new and existing customers with email marketing. Find out more at ConstantContact.com.