As you may know, Shark Week is a week-long series of TV programming completely dedicated to the topic of sharks. The series has been taking place on the Discovery Channel since 1987, but has become increasingly popular in recent years thanks in no small part to the influence of social media.
With Shark Week's ever-growing popularity, a ton of brands are now looking for creative ways to join in the excitiement with their customers and plan marketing campaigns and promotions around the week.
And it's not just the big-name brands that are taking advantage of the Shark Week madness!
In this post, we'll share five of our favorite Shark Week marketing ideas from real small businesses, plus some resources you can use in planning your own Shark Week advertising!
When is Shark Week?
Shark Week 2021 takes place on August 9-16.
Shark Week advertising and marketing examples from real small businesses
1. "Scarf Week" at Coveted Yarn
Yarn, knitting, crocheting… these are not things you would immediately think of when it comes time to celebrate Shark Week.
But that didn't stop Rob Porter, owner of the Coveted Yarn, from creating an awesome Shark Week, excuse me, Scarf Week video when a shark accidently ended up on the deck of his boat. He then posted the video to his Facebook Page.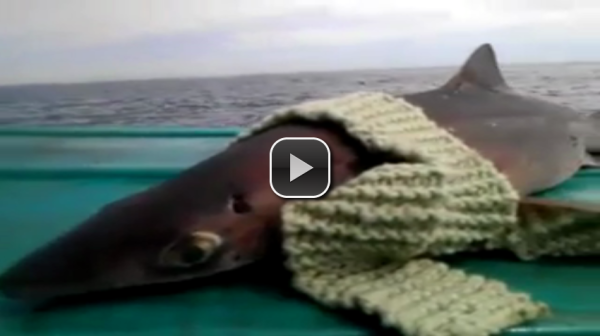 Now, Rob was lucky, and most small business owners won't have the opportunity to get a photo of a shark with their product (or at least let's hope you don't have that close of an encounter!). But think about how this might inspire your own shark week marketing. For example, maybe you could commission an illustration or photoshop of a shark enjoying the products or services you're promoting!
2. Narragansett Brewing Company's "Crush it Like Quint" campaign
Rhode Island-based brewers of the Narragansett Brewing Company have a special connection to the annual Shark Week event.
In the 1975 film Jaws, Captain Sam Quint the shark hunter (played by the late Robert Shaw) crushes a can of Narragansett with one hand to intimidate Matt Hooper (played by Richard Dreyfuss).
Narragansett re-released the now-famous can for a limited time only in celebration of Shark Week. They encouraged their customers to #CrushItLikeQuint.
3. The Manmouth Museum presents "MMKids Shark Week"
While there's certainly plenty of entertainment that comes along with it, Shark Week is really all about education.
The Manmouth Museum decided to offer some shark education of its own, offering a full week of shark activities, crafts, and other fun programs.
From "Shark Week Family Movie Night" to "Sharktastic Story Time," it's a fun week to visit the Manmouth Museum.
4. Management Resources Group's "Great White Papers for Your Summer Reading"
Even brands that don't market directly to consumers are getting in on the Shark Week action.
Management Resources Group, Inc, a leading professional services company that specializing in asset management, reliability, and foundational data services, offered some great content to its email contact list with a unique Shark Week theme.
Inviting readers to swim over to their library of more than 30 white papers and other educational content, they were able to relate to their readers in a creative way while also staying true to their brand.
5. SciStarter.com "A Feeding Frenzy of Citizen Scientists"
For an organization like SciStarter, whose goal is to offer a place where members of the science community can discover, take part in, and contribute to research projects around the world, Shark Week is a great time to gain visibility for a number of shark-related projects.
SciStarter sent a Shark Week-themed email with the subject line:  "SharkWeek: A Feeding Frenzy for Citizen Scientists," promoting a number of projects that readers can become involved with right away.
They also used Facebook, Twitter, and shared articles on the SciStarter blog to help generate visibility for these exciting shark-related projects.
How to market around special events like Shark Week without getting bit
Whether you sell products to consumers, offer services to other business, or run a nonprofit organization, there are a number of ways you can use popular topics like Shark Week to better engage with your audience online and off.
By using hot topics like these, your marketing will not only be more engaging but it will also be more relevant to the people you interact with every day.
While I may not be in the market for yarn or interested in spending a day at the museum, I am going to pay attention to a message that connects with my personal interests outside of the products you sell or the services you provide.
Does that mean every hot topic should show up on your Facebook Page or in your next email? No. If fact, there are a number of hot topics that 99.99% of brands are better off swimming away from. But if you're being true to your brand and keeping your customers in mind, you should be able to safely navigate the waters and have a more enjoyable marketing experience for you and your customers.
Happy Shark Week!