Editor's Note: Earlier this week, Constant Contact announced the inaugural class of the Small Business Innovation Program, a new program designed to support entrepreneurs and startups as they solve problems for small businesses through the development of new products, features, and services.
The following is a letter from Tammy Kahn Fennell, CEO of MarketMeSuite to the members of the inaugural class. MarketMeSuite participated in a pilot of the Constant Contact Small Business Innovation Program earlier this year.
Dear incoming class of the Small Business Innovation Program:
As CEO of the first company to pilot the program, I wanted to share some insights and tips with you that will hopefully help you get the most out of your experience over the next few months.
Come with a plan.
There's a reason you applied for this program, right? Come knowing why you are here and most importantly, what you want to get out of it. Then work to execute it every day. It sounds cliché, but this program is what you make of it, so know what you want to achieve.
Ask Laura.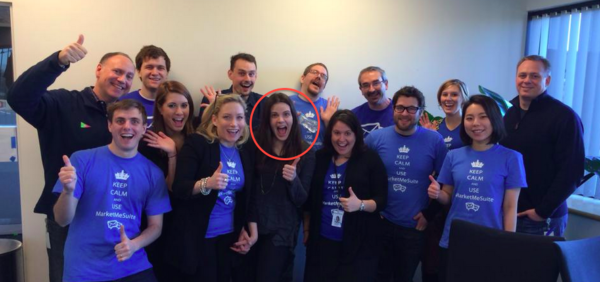 You have a plan, but you'll need guidance. That's where this little ray of sunshine comes in — Laura Northridge.
There is no idea too weird or crazy for Laura to help you with. Case in point, I wanted a way to connect with as many Constant Contacters as possible in one shot, so I pitched the idea of some kind of group gathering to share the MarketMeSuite story and the integration we were building. Laura quickly whipped up a "snack and learn" and over 200 people showed up! Laura has joked that she wants to put a lifeguard chair in the middle of the space to see what's going on — I think that's a good idea, it will make it easy to find her ;).
The entire innovation team is simply awesome. Andy Miller has put together a rock star team who eats sleeps and breathes innovation and the Small Business Innovation Program. You're in good hands.
Be there.
Yeah, it's in Waltham and not the easy part of Waltham to get to. Whine about it to yourself for a few moments, and then move on. For this to work, you need to be there, take part in the amazing programming, and legitimately interact. People laugh when I walk around Constant Contact and I know most people's names (including Cory who runs the Starbucks and Victor at the front desk), but that's because during my time there we were really there, both physically and mentally. And let's be honest, it's important to be kind to the man who keeps you caffeinated…
Be all in.
Seek out this guy.
His name is Alec Stern and you are so lucky that you get to spend the next few months anywhere near him. He is on the Founding Team of Constant Contact, and is Vice President, Strategic Innovation. He's also the Executive in Residence for the Innoloft. That means that he's going to be sharing space with you guys for the next few months.
Alec is probably the biggest gift the innoloft has set up for you — talk about a guy with experience in the SMB market. And he's like the mayor; Alec knows everyone, both in Constant Contact and in the greater tech community. Show Alec that you are willing to work for it, ask him for advice, and you won't be disappointed. He will help you become a better version of yourself than you ever thought possible. And, if he says "That's great, but just a couple of tweaks," that pretty much means you'll be doing it 3 to 4 more times. Be gracious and listen, and when you're finished it will be 10 times better than anything you've ever done before.
Get ready for an amazing experience.
So, incoming class, I wish you the absolute best in your journey. You may see team MarketMeSuite around a bit experiencing the new space and taking part in the programming. Our journey is far from finished, and there's always more to learn!
All my best,
Tammy, CEO @MarketMeSuite