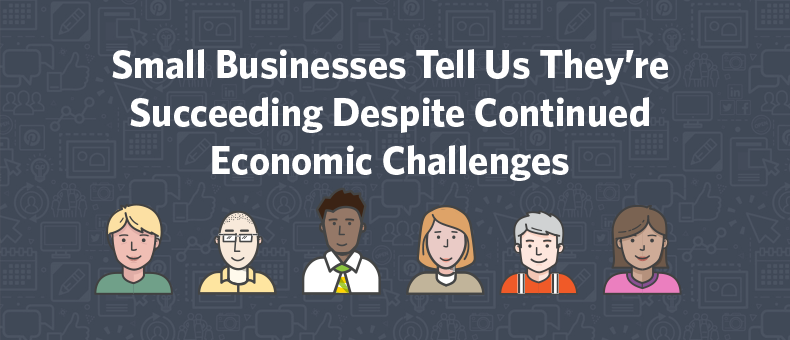 We've all heard the phrase "what doesn't kill us makes us stronger." Like any cliché, it conveys an underlying truth — a truth that small businesses owners face in their continued battle with the economy.
According to the latest Constant Contact Pulse Survey, 67 percent of small business owners expect to end 2015 on a high note, with their annual revenue exceeding 2014 annual revenue. And the future looks bright. The majority (78 percent) expect 2016 revenue to increase from 2015.
The holidays, however, are not inspiring as much optimism, with only 40 percent of B2C small businesses saying they expect 2015 holiday revenue to exceed 2014 holiday revenue. Even more sobering, the economy remains a challenge, with 46 percent saying it's taking a toll on their business.
So, what's the upside of a down economy?
The majority of small business owners (71 percent) tell us that external factors such as the economy and increased competition have forced them to become better marketers.
And marketing is a major focus. Compared to two years ago, 68 percent are conducting more marketing and 60 percent are spending more time per week on marketing. More than half (52 percent) are squeezing in their marketing activities anytime they can, day or night. Almost a quarter (24 percent), are doing it anywhere they choose because they're using their mobile device.
Given this increased attention to marketing, and the fact that many are not just surviving but thriving in a challenging economy, it's safe to assume that for many, their marketing efforts are paying off.
Which marketing channels are proving most effective?
Small businesses tell us that their top three marketing methods for finding new customers are word of mouth, email, and websites. Not surprising, really, given that these channels offer strong ROI and play well into the small business advantage — the ability to build real relationships with customers.
While this trifecta is a tried-and-true winning combination, it's always fun to look into the future and see what marketing tools might be added to the small business marketing arsenal. Small business owners told us the trends they expect to impact their marketing most in the next two to three years are: video streaming, Internet of Things, and messaging apps. Far less likely to impact them were: wearables, crowd funding, and 3D printing.
Find even more stats in our 2015 Holiday Survey eBook!