If you own a small business, you've probably learned by now that there are a lot of tools out there to help you stay in contact with the people who matter most to your business.
You've probably also discovered that—with the introduction of new technology like smartphones and tablets—the way in which you use these tools has changed a lot as well.
Like you, your customers have evolved with the times. If you own a business in the US, a majority of the people who walk through your door each day will do so with a smartphone in their pocket.
This can present both opportunities and challenges when it comes to keeping your audience engaged and informed about all the stuff you have going on at your business.
Ready to do more business with email marketing?
Start your free 60-day trial today.
Why add text messaging to the mix?
One of the ways that businesses—both large and small—are taking advantage of the recent surge in mobile activity is by adding text messaging into their marketing mix.
I know what you're thinking, "Text messaging … really?"
But text messaging isn't just something being done amongst teenagers or college students. Today, a majority of Americans are actively using text messaging to stay in contact with friends, family members, and colleagues.
These are people who are actively engaged in the content they're receiving. Today, 90% of text messages are read within three minutes of delivery.
Still, have some doubts? Well, what if I told you that text messaging also fit perfectly into the stuff you may already be doing to marketing your small business?
How SMS marketing fits into your email marketing strategy
While SMS Marketing (that's the term for using text message to communicate with customers and prospects) has definite differences from email marketing it also shares important similarities that make it the perfect complement to your email marketing efforts.
The one-two punch of email and text messaging allows you to send the right message at the right time to virtually all of your customers. Even better, both channels offer two-way communication (after all, engaging is about having a conversation.)
You can use text messaging for short, time-sensitive communications; this means everything from appointment reminders to last-minute sale alerts. And can use email to send more content and information to the place your customers are already going every day: the inbox.
With 60% of consumers now accessing emails via a mobile device, the combination of SMS marketing and email marketing could be exactly what you need to adjust to the needs of your increasingly mobile audience.
What you need to know when adding SMS marketing to your marketing mix
Not sure how SMS marketing would fit in with your email marketing?
Follow these five essential rules when using SMS marketing to complement your email marketing campaigns: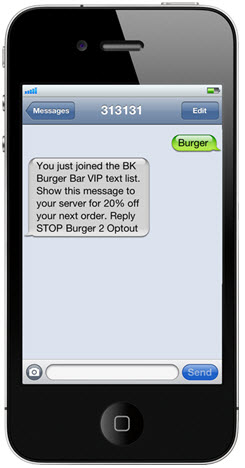 1. Like email, SMS is permission-based. You must have permission (an opt-in) before you text someone. The most common way people will opt-in to receiving text messages from your business is by texting a keyword to your personalized shortcode. (A Short Code is a five or six digit number that can send and receive text messages.)
2. Text messages are limited to 160 characters. You can string together multiple texts but we advise against this. The beauty of a 160 character limit is that it forces you to get to the point, saving your customers time. If your marketing emails are a short story, your marketing texts are a killer sentence.
3. A clear, incentivized call to action is the best way to promote your Keyword. An example would be: "Text Burger To 313131 To Receive 20% Off Your Next Order And Jour Our Texting List!"
4. Find the right frequency. Short, valuable messages can be sent more often than emails, but as a rule, you probably don't want to be texting your customers more than 1 – 2 times per week. Set the correct expectations from the start.
5. Your message will almost always be read in less than 5 minutes. There are many creative ways to use SMS Marketing, but the easiest way to boost your bottom line and make customers happy is to offer a deal like 'show this text to extend happy hour to 9pm' sent at 6pm on a slow, rainy evening.
Get started today!
Hopefully, you see the value SMS Marketing could add to your existing marketing efforts. But how do you quickly get started?
If you've collected mobile phone numbers and have permission from the customers on your Constant Contact list to text them, getting ready to text those customers takes less than five minutes.
While there are many great SMS Marketing services out there, Ez Texting offers the ability to automatically sync your contact lists with a few clicks. It's free to try, so you can judge for yourself!
Additional Resources
Ez Texting is a Constant Contact partner and can be easily integrated with your current Constant Contact account. Visit the Constant Contact MarketPlace to learn more.