This year, I was fortunate to have a number of opportunities to speak with small business owners about the different ways they're using social media to market their businesses.
I've had the chance to answer a lot of social media questions, and have also learned a lot about how business owners are using these different networks to their advantage.
I've also had some surprises.
One of the biggest surprises I've run into when speaking with small business owners is that a number of people are still linking their Facebook and Twitter accounts to post automatically.
While automatically posting from one network to the next may sound like a good idea, the truth is that this can often do more harm than good.
One of the biggest problems with auto-posting is that these tools ignore an important fact: All social networks are not the same.
If you're auto-posting from Facebook to Twitter for example, you've probably noticed that a lot of your posts will automatically get cut off. Because Twitter has a 140-character limit, each post you share needs to be created with that specific network in mind.
You may have also noticed that when you share certain pieces of content — like photos or links — these assets often don't transition well from network to network.
Another problem with simply auto-posting from one network to the other is that people connect with you on different sites for different reasons.
Not only will you run into problems with how your content is displayed, if you're posting the exact same content to multiple social networks, you're not giving people a reason to follow you on each network. What's the benefit of following your business in multiple places if you don't have something different to say?
So, what can you do?
If you want to build an audience across your social networks that is engaged and interested in what you're sharing, you need to spend some time thinking about the individual needs of your audience on each network.
You also need to understand what type of content is best for each. I've put together a quick overview to help you get started:
Facebook: Be conversational, be friendly, and use complete sentences to keep your fans' attention. When Facebook users scan their News Feed, they're reading thoughts and updates from their friends that are written the same way.
Twitter: Keep your message short. Twitter has a 140-character restriction on tweets. Use hashtags to stand out in the Twitter stream and get your content noticed.
LinkedIn: Be conversational and helpful, but keep your content professional. LinkedIn users are using the network to share their expertise and establish credibility in their field.
Pinterest: Use good descriptions so people can learn more about the content you're pinning and so that your pins appear in search results.
Google+: Be conversational and helpful on Google+, but also choose the keywords that will help get you found in a search. Google indexes all of the content shared on Google+ and references it when someone searches for your business or keywords you write about.
Instagram: Use hashtags in your photo captions to help get your photos noticed. Instagram users look for images with popular hashtags. Don't forget to tag any person or business that's in your photos; they'll be more likely to interact with your content and spread the word about you.
All of the social networks: Images are important on all social networks, but each network displays images a little differently. Use our social media image size cheat sheet to see what size will work best on each network. If you need to modify the image, use free tools like PicMonkey or Canva to upload and resize your photos.
Next, you need to find the right tools to help you save time and automate your social media the right way.
One of the tools I like to use is Hootsuite.
Hootsuite is a social media dashboard that allows you to manage all of your social networks from one central location. You can easily keep track of the different conversations happening around your business and your industry, and you can also schedule posts in advance.
Instead of simply posting an update on one site and having it blast out to your different networks, you can create posts that are specific to your different audiences and use Hootsuite to schedule them in advance.
Creating posts that are specific to each network might sound like a lot of work, but remember that you can still share similar content on each site if you go about it the right way.
Consider this example:
On Facebook we posted our 30 Day Social Media Content Challenge with an appropriately sized image. The text is conversational and friendly. It includes a hashtag that we encourage the audience to use so we can find their posts on any social network.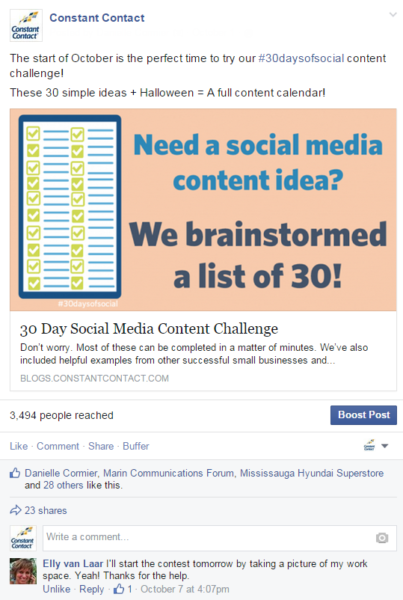 Then, we shared the same blog post on Twitter. We used the same photo, but the text is crafted for a Twitter audience. It's under 140 characters, includes hashtags to call attention to relevant topics and keywords, and has a shortened link back to the blog.
You can do the same thing too.
Start with a piece of content you want to share, tweak the way you promote it slightly, and make sure it fits each social network.
If you're a Constant Contact customer, you can use our SimpleShare tool to easily share your emails, offers, and events across Facebook, Twitter, and LinkedIn. You can also customize your message so that it fits the audience you're trying to reach.
You can reference the tips for each network listed above, and also check out some of our other helpful resources for repurposing your content:
Have questions?
If you're new to this, attend our Basics of Social Media webinar. Or, if you've been using social media for a while and need some new ideas, try our You're Social, Now What? webinar.