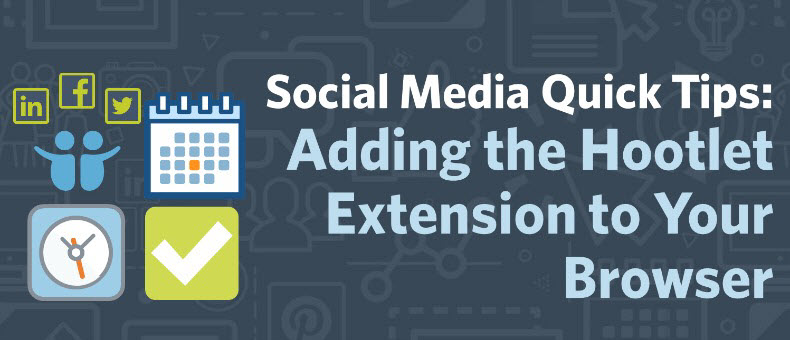 We understand that your time is both precious and limited as a small business owner, and any tips that save you time can go a long way.
The value of adding an extra hour to a small business owner's day is $273! Tweet it.
Social media is a time consuming part of most business's online marketing efforts, and is often the first to get cut from a marketing to-do list.
But an infrequent stream of social media content can lead to an irritated audience or devalue your online presence.
One key social media time-saver we recommend utilizing to manage and schedule your social media updates is a tool such as Hootsuite.
Hootsuite is a social media monitoring platform that you can use to follow updates and share content with your Facebook, Twitter, LinkedIn, and other social media audience.
In this week's social media quick tip, I recommend Hootsuite's browser extension Hootlet (available for Google Chrome, Firefox, Internet Explorer and Safari).
The Hootlet extension is a terrific time saver that allows you to schedule social content with a few clicks while browsing content online with ease.
Watch this week's quick tip video to learn how you can save time scheduling social media content:
(Can't see the video? View it here.)
It only takes a minute to install the Hootlet extension to your browser and the minutes it will save each day make it well worth it!
Getting started on your holiday social media calendar?  We've created a list of content ideas and plans for posting so you can start filling out your calendar today!