Your subject line is one of the most important parts of your email newsletter.
Writing a great subject line will ensure you attract your readers' attention and convince them to open your message.
But have you ever wondered if your subject lines could be more effective?
Watch this video below to hear five subject line tips that can help you write better subject lines than ever before.
(Having trouble viewing the video? Watch it here.)
Or read the transcript below:
Your subject line is really important because it's the first impression you'll make on your readers.
The goal of a subject line is to stand out in the inbox, grab your readers' attention, and convince them to open your email.
Here are 5 tips for writing an effective subject line.
1. Stay short and sweet
Remember that a lot of readers are going to be looking at your email from a mobile device, so you have a small space to work with. For best results, limit your subject line to about 40 characters (50 characters is the sweet spot on the desktop) so that nothing gets cut off. Think five to seven words.
2. Avoid anything spammy
Certain language like 'Buy Now' or 'Free,' or loud punctuation like all caps or multiple exclamation points can send your email to the spam folder. You can use our spam checker tool within your Constant Contact account, which filters through your email content and makes sure your email is in line to land in the inbox.
3. Ask a question
Questions are great because they pique your audience's interest. If a contact is scrolling through their inbox and they see a question, they'll want to click on your message to get an answer from your business.
4. Include a deadline
I think we all know what it's like to wait until the last minute to do something. By including a deadline, you'll create a sense of urgency with your reader and you'll show them that your message is timely and that they should open it.
5. Add a list
Similar to the format of this video, people love lists because it's really easy to digest the information. They know when they open your email they'll have a really clearly laid out set of points that they can scan through quickly. Think about what kind of lists or tips would be useful for your audience, and include it in your next email newsletter.
Put these tips to work!
Tweaking your subject line slightly can improve the impact of your next email newsletter.
For more inspiration, check out twelve subject line tweaks that worked for other small businesses and nonprofits.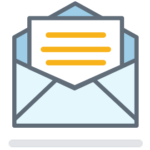 Is email marketing right for you?
See why smart small businesses use email marketing to drive more business. We'll show you exactly what it can do for you, and ten tips to get started.
Get your Guide!
By entering your information, you permit us to reach out to you in the future.