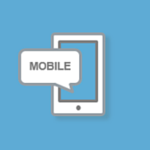 In this expert interview we ask mobile marketing specialist, Franco Beschizza, how businesses can get started with mobile marketing.
A responsive email template is a template for email marketing designed to look great and function properly across any device. A responsive template will automatically adapt to any screen size, so whether the email is opened on a smartphone, tablet, or a computer, it will look great, function well, and…
Local small business retailers have been witnessing this scene for a few years now: Shoppers roam their aisles finding good merchandise.They scan the barcode on their smartphone and then use a price comparison application to see if they can find a better deal…often online. The routine is called showrooming; if…
With more than one million food service locations across the United States, restaurateurs don't have to be reminded that they are vying for business in a fiercely competitive marketplace. While industry pundits routinely state that food quality, service, and value must all remain top of mind in the daily struggle for…
Small business owners know what it's like to deal with a time crunch. With so many things on your plate (and all those new challenges you can't help but take on), completing projects ahead of time isn't always a possibility. Even with the best intentions and a carefully laid out…
A friend was ordering his iPhone 6 when they first became available. Comparing the iPhone 6 to the iPhone 6 Plus, he wondered out loud, "Why would anyone want that big thing?" But as he continued through the online ordering process, he soon discovered that a lot of people wanted…
2015 has been called the year of video, but that doesn't mean the momentum of mobile marketing is slowing down anytime soon. In fact, these two platforms are increasingly being used together — video views on smartphones and tablets showed a 114 percent increase year-over-year from 2013 to 2014. Now,…
Editor's note: This post comes from our Constant Contact UK office. You can view all posts from our UK team here. Or connect with us on Facebook and Twitter. Having an engaged and growing email list is a small business owner's secret weapon. Making sure you communicate regularly with your…
Digital marketing for small businesses is fraught with updates and constant change. We look at 8 practical tips to keep your marketing in tip top shape.
Editor's note: This post comes from our Constant Contact UK office. You can view all posts from our UK team here. Or connect with us on Facebook and Twitter. The following is a guest post from Holy Barber, marketing manager for FireText. FireText's SMS platform enables you to send & receive…