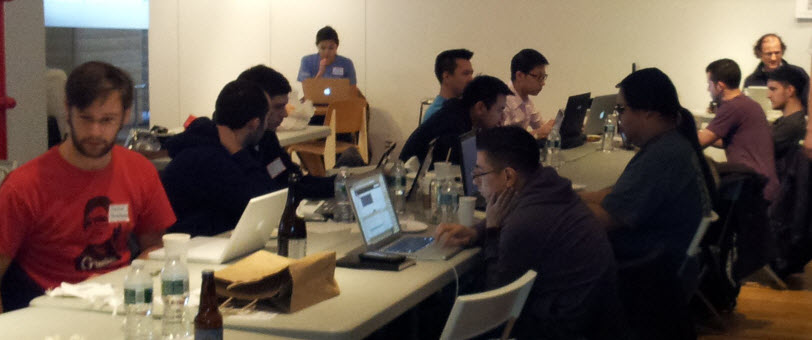 Last weekend, I attended the Photo Hack Day 2 hackathon.
What's a hackathon? It's an event where entrepreneurial developers (or "hackers") gather together to do collaborative computer programming, and hopefully walk away with brand new programs or applications.
The weekend was full of amazing technology and great developers, and it was a lot of fun.
My goal was to learn as much as I could about where the world of online photos is going and how small businesses and nonprofits can benefit from these advances.
Easy-to-use image editing
The first thing I learned was that there are some businesses that have made it incredibly easy to gain access to tools that were previously really expensive and only available to a select few.
For example, Aviary.com has made image editing features available to anyone who needs them where they need them, from the web to mobile. Now any mobile app or website can have image editing added to it quickly and easily. In the coming months, you'll see Aviary pretty much everywhere you use images — including in Constant Contact's editor.
Finding and hosting images
Other companies are making it easier to find and host images, like Flickr and Getty Images. Both of these sites provide you with access to literally millions of images that you can add into your content.
Amazingly, one of the hacks this weekend showed you images from these sources while you were typing content (a blog post, for example), and then let you drag those images into whatever it was you were writing, all based on your content as you typed it! I saw that and immediately thought, "I wish I could use that next time I have to write a blog post."
Learning more from images
The last thing I realized is that it's awe inspiring (and, yes, a little creepy) how powerful image technology is today.
Remember all those movies and cop shows where the investigators took an image, no matter how fuzzy, and figured out exactly who was in it? Developers this weekend were able to do just that — close enough, at least — using the powerful Face.com technology. It lets any developer or app send an image and find out who is in it based off your Facebook and Twitter accounts (with your permission, of course).
There were many hacks that found ways to use this technology to get better engagement from event attendees — from auto-tagging attendees in the images posted to Facebook, to making live scrapbooks of the event's images.
There are definitely going to be some cool apps built from this free new technology over the next few months. Stay tuned.
Exciting possibilities for small businesses and nonprofit organizations
By the end of the weekend, I had been blown away by the power we have in photo technology today.
Things that were just movie magic only a few years ago are possible now. Tools that used to cost thousands of dollars are available for free.
This is really going to change the game for how small businesses and nonprofits are able to interact with their customers.
We'll make sure to keep you updated as more of these new technologies turn into apps that small business and nonprofits can use every day.
Have you used a new photo app lately or seen any new photo technology that benefits small businesses and nonprofit organizations? Share your experiences in the comments section below.