We had a sneaking suspicion that Thanksgiving Weekend 2015 was going to be a busy time for small business marketers. Based on what we saw last year, we were prepared for a flurry of email activity.
But once again, even with our high expectations, we continue to be impressed by just how big a role email plays in our small business customers' holiday marketing efforts.
Yesterday, Cyber Monday 2015, is now the busiest day in Constant Contact's history in terms of email sends (topping Cyber Monday 2014), with more than 375 million emails sent from our servers.
That's about 10 million more emails than last year!
Taking a look at the extended weekend — from Wednesday, November 25 through Monday, November 30 (Cyber Monday) — our customers sent 1,438,693,844 emails.
To give you a proper visual of just how many emails that is: if each email were a single sheet of paper stacked on top of each other, the resulting pile would be about 11.2 stories tall.
Small Business Saturday Soars
Let's take a look at the daily email volumes over Thanksgiving Weekend, compared to last year. We recently found that small businesses are conducting more marketing today than they were two years ago, and that certainly plays out here: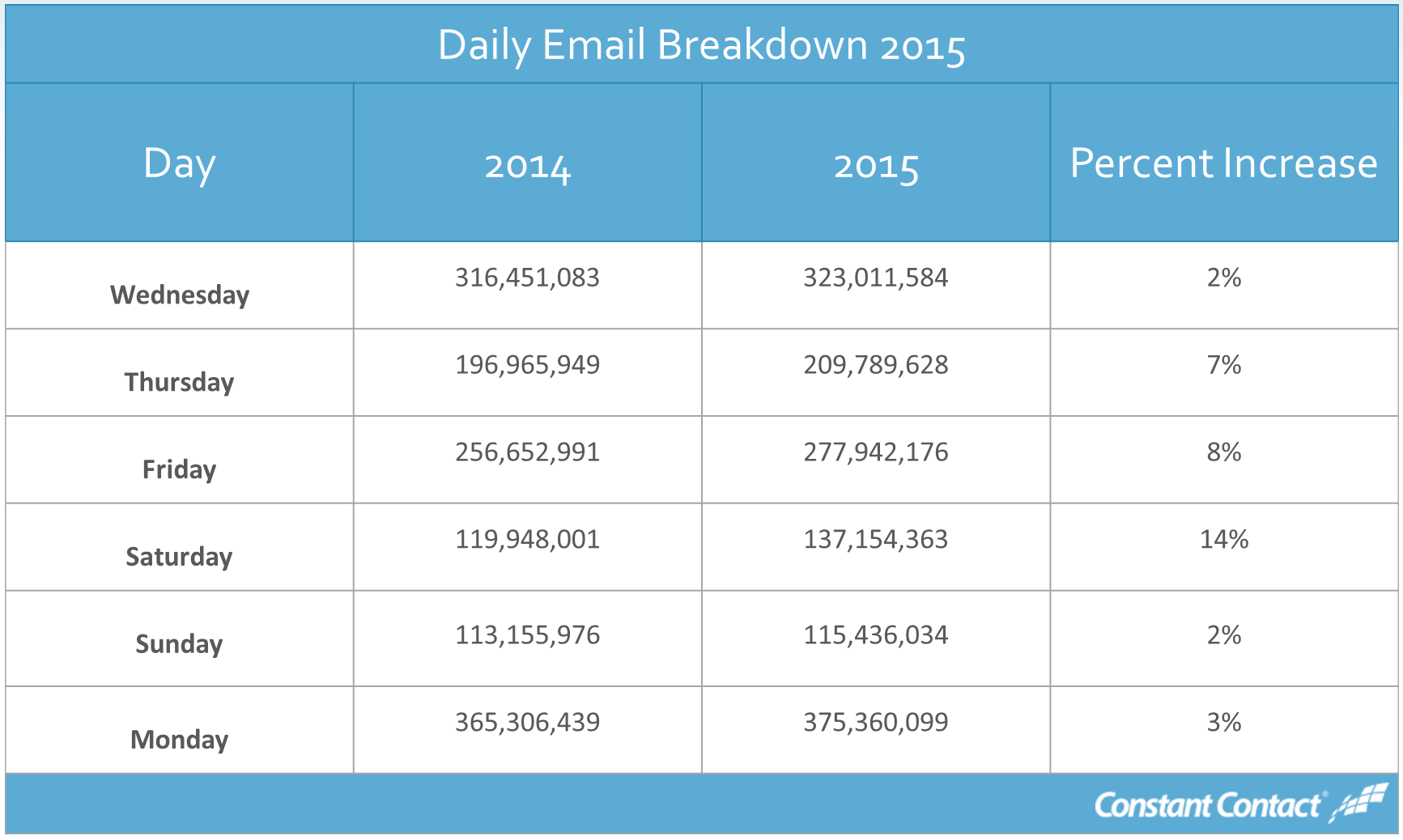 While each day showed a year-over-year increase, Small Business Saturday really took off in 2015, with our customers sending 14 percent more email this year than last.
We are very excited to see small businesses latching on to the holiday, and the results appear to have paid off: Spending on Small Business Saturday increased this year — also by 14 percent.
Mobile Opens Take off on Thanksgiving and Black Friday
This year we also took a look at the percentage of emails opened on smartphones, tablets, and desktops per day.
This is what we found:

Notice anything interesting? We sure did. Normally, we see percentage of opens on mobile devices (smartphones and tablets combined) hover around 51 percent. However, on Thanksgiving and Black Friday, that number surged above 57 percent.
It makes sense if you think about it. Thanksgiving is spent with family; it's kind of tough to lug a computer around to check email. (That doesn't stop most people from occasionally sneaking a glance underneath the dining room table.) And with so many people out and about shopping for deals on Black Friday, opening up emails on mobile devices is the way to go, particularly if you're searching for a redeemable coupon at your favorite local retailer.
Industry Breakdowns
Speaking of local retailers, like last year, retail small businesses led the way in terms of email sends.
Here are the five industries that tend to send the most emails over Thanksgiving Weekend and the percentage of emails they accounted for:
More than a quarter of all email sends on Thanksgiving, Small Business Saturday, and the following Sunday were from retailers.
One of our favorite trends to watch over Thanksgiving Weekend is the increasing activity of sports and recreation-focused small businesses. Last year we noticed these small businesses taking advantage of Thanksgiving turkey overload by sending their subscribers emails on Thanksgiving and the days immediately following.
Their email activity increased even more this year, topping out at nearly six percent of all emails on Black Friday and Small Business Saturday. (I know that I'm looking forward to getting to the gym after three helpings of mashed potatoes.)
Later this week we'll revisit this data, looking specifically at nonprofit activity on Giving Tuesday. Also, we're excited to release some data on the best performing subject line keywords in terms of open rates over Thanksgiving Weekend. So stay tuned!
How was your Thanksgiving Weekend? Did you notice an uptick in activity on Small Business Saturday? Let us know in the comments!