Keeping up with Twitter's high volume of tweets can become overwhelming pretty quickly.
One simple way to make your Twitter experience more manageable and efficient is to use Twitter Lists.
A Twitter list is a curated group of Twitter users. You can create your own lists or subscribe to lists created by others.
Creating your own Twitter List(s) is useful because it allows you to browse tweets from a select group of users in a unique stream, separate from your primary Twitter feed.
That way, you can organize and view the content you're most interested in consuming on Twitter.
There are two types of lists you can create: public or private.
Public lists can be seen by anyone using Twitter and allow other users to subscribe to your list.
Private lists cannot be seen by anyone other than you.
The great thing about private Twitter Lists is that you don't have to be following a user in order to add them to a list.  Nor will that user be alerted they have been added to your list.
This creates an opportunity to make lists on Twitter that serve a variety of purposes.
You can create lists of users that share content related to your industry, or a list of your customers to gain a better understanding of their interests. Additionally, you could create a private list of your competitors or individuals you consider  'leads.'
This is a great way to find content that's important to you, and can also be used to identify new opportunities to build relationships on Twitter.
The tweets shared from the users you add to your lists do not show up in your primary feed (unless you are following them).
How else can you use Twitter Lists?
You can create a list of event attendees to keep track of what they're posting, without having to see their updates all the time once the event is over.
Another awesome thing about Twitter Lists is that you can subscribe to other individuals' public lists.
There are a ton of great lists already out there, such as lists of marketing resources, industry-related news or lists related to your local area. Take advantage of these lists by seeing what's out there and subscribing to any that are helpful to your business.
You can find relevant lists to follow a few different ways:
Check out the lists that you've been added to by selecting 'Member Of' under the list section of your profile
Visit the profiles of your favorite Twitter users and check out the lists they've created or are members of
Perform a Twitter Search and select 'Timelines' on the left hand column of the search results page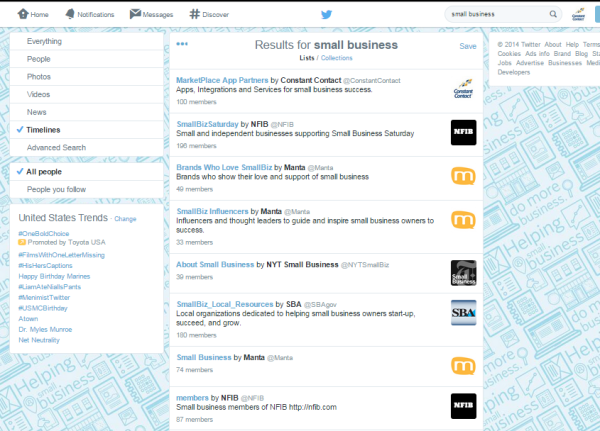 Here are a few lists we suggest you consider subscribing to:
Take the time to set up a few initial Twitter lists today — don't wait!  By getting your Twitter Lists started now, you can start adding Twitter users to those lists and continue to build out your lists over time, adding more users as you engage with individuals in the future.
Watch our latest Social Media Quick Tips video to help you get started.
(Can't see the video. View it here.)
Looking for more Twitter resources? Head over to our Twitter 101 Page for more Twitter tips.