Every time there's a conversation about whether or not B2Bs should be using Facebook to market their business, there always seems to be some sentiment about how they should only be concerned with the company's LinkedIn profile.
After all, Facebook is just for having fun, right?
Wrong!
In fact, according to the 2012 Social Media Marketing Industry Report:
87% of B2Bs are using Facebook
56% found new business partnerships through social media
60% saw improved search ranking from social media
The report's authors also concluded that dedicating just six hours a week to social media can improve both brand awareness and sales for B2Bs. Truth is, if you already have ideas on what to post, you can probably get Facebook marketing done in about 15 minutes a day.
Here are 25 ways B2Bs can use Facebook to improve brand awareness and, sometimes, drive leads and sales:
1. Inspirational Quotes
Management training firm Illumine Training makes extensive use of quotes on their Facebook Page. Inspirational quotes can be a great way to communicate the values of your business and just brighten a fan's day.
The bonus is that, if they're unique or inspirational enough, there's also a chance that the quotes could get shared.
2. Photos showing off products and services
Gourmet Coffee Service provides businesses with the best kind of office supplies—coffee and other pantry goods. Here, their Facebook Page is used as a place to debut one of their latest available services.
3. Photos giving fans a glimpse behind-the-scenes
Whether it's just your cubicle or a cool van, everyone on Facebook is innately curious about the inner workings of a business. Invite them in and they'll feel a deeper connection to you. Photos will also help put a human touch on an organization.
4. Guides & whitepapers
Property Minder is a firm that specializes in helping real estate agencies with web design, so showing off the company's expertise is important. To establish the Facebook Page as a place for thought leadership for realtors, Property Minder offered a free, downloadable guide to fans.
As a bonus, this particular campaign netted 226 new fans for the Facebook Page in about three weeks.
5. Cover photos summarizing products & services
A Facebook Page's cover photo is any visitor's first impression of your organization. Web service firm Innovative Global Visions (IGV) uses this photo as an opportunity to sum up exactly what the company does.
6. Sharing news about business partners
Show off your relationships with your partners by telling your Facebook fans what they're doing, too. Here, pet food supplier, Katoby Distribution, links to a blog post by a partner.
7. Posts about legislation that affects the industry
Telling fans about the latest industry developments can help spark a conversation about the industry at large, which gives you another thought leadership opportunity.
8. Highlight your latest projects
In this case, "Highlight" has a literal definition. Facebook has a "Highlight" option for posts, which enlarges a post so it takes up both sides of a Page's wall. Here, IGV has used it to showcase some of the company's latest web design work.
9. Pictures of events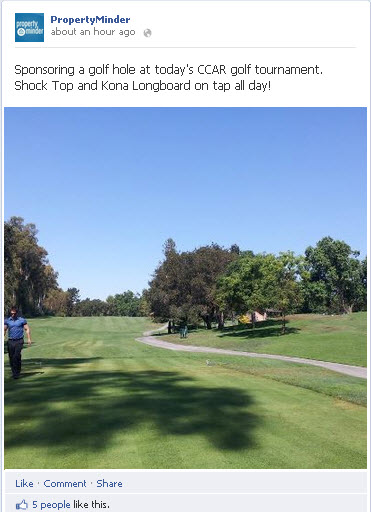 Many B2Bs sponsor events, so why not show fans which ones you're sponsoring? If you're not sponsoring one, conferences, workshops, and seminars are all great opportunities to share with fans, too. Photos with employees in them can help add personality to the company.
10. Announce employees who are also Facebook fans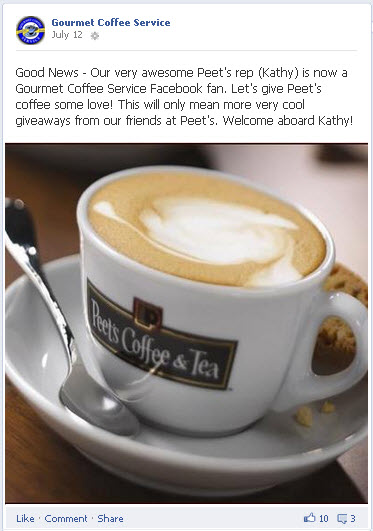 Introducing different employees on Facebook can be a great way to bring everyone closer together, especially if you can tie it back to the business.
11. Post about universal events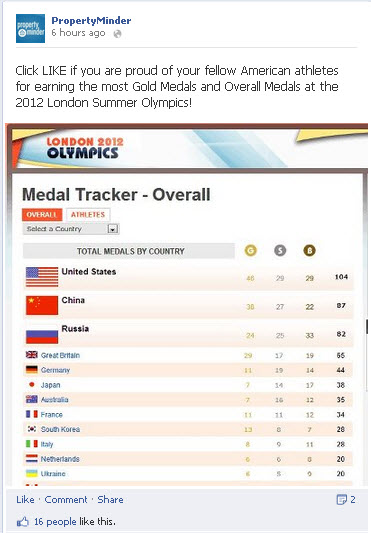 Fans will mostly count on your Facebook Page as a community and a resource for industry subjects, but if you share universal events you know most people will appreciate, you can provide material fans are more likely to share outside their professional network.
12. Run a survey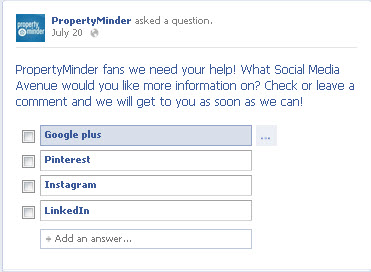 Property Minder sometimes makes use of a Facebook survey to ask fans about the topics they want to learn more about. Surveys can help any business develop content that's better tailored for fan and customer interest.
13. Refer to contemporary news that relates to the industry
SpeechGear develops enterprise-level software that translates languages in real-time, as well as other solutions for those who have communication difficulties. The Auditory Sciences Facebook Page represents that software for smaller organizations. Here, that product has been introduced to a very real world scenario. Be sure to leap on any opportunity to connect your industry to contemporary news stories. That can get fans talking and show how relevant your product is, too.
14. Announce partnerships
B2Bs are already professionals at networking. Facebook can help you take those efforts to a new level, especially if you tag another business in a Facebook post. Now that post will show up on both the company's Facebook Page and your own Page, which can significantly help visibility.
15. Share infographics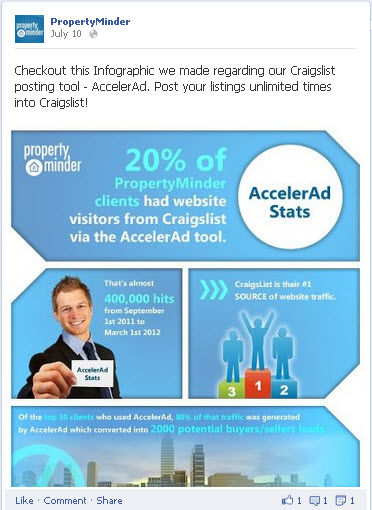 If you've recently made an infographic—or just found one you like—don't forget to share it on Facebook.
16. Use photos to convey industry statistics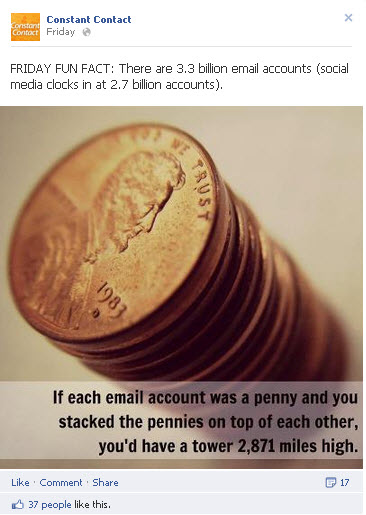 Just grabbing a photo you like (and have the rights to) and adding a statistic to it can be a very Facebook-friendly way to tell fans about the industry.
17. Post research and ask fans about it
If you have an infographic—or just made an Excel chart you think fans would find interesting—why not ask them for their opinion?
18. Humorous pictures
You can create some humor with captioned images, too. Memegenerator.net is an extremely easy way to make a fun image fans can appreciate. If you have Constant Contact, you can also use PicMonkey to customize images.
19. Show off new products for feedback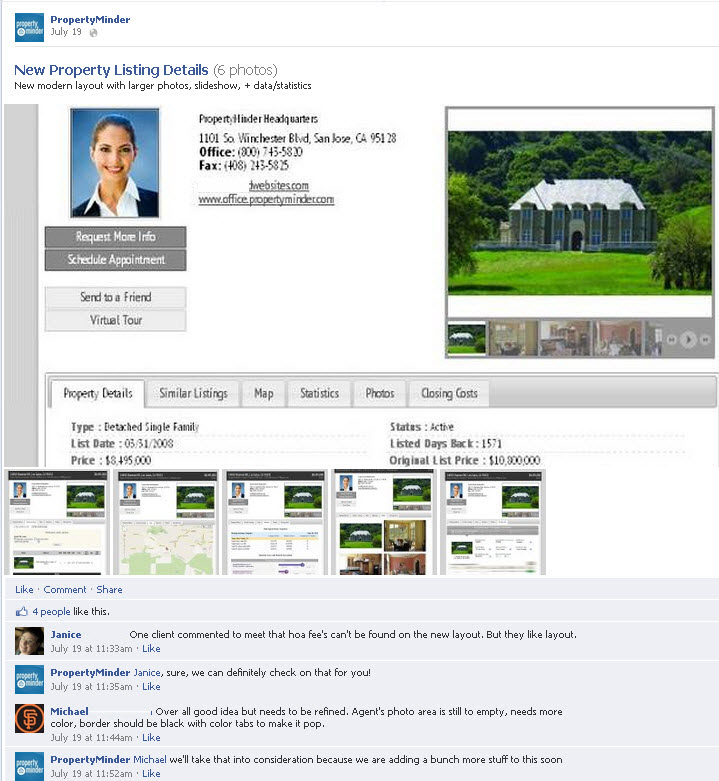 If you have a new product you want to get opinions on, Facebook can be a great, casual environment to debut something and get feedback about.
20. Share customer testimonials
The Small Business Development Center at the University of North Florida is a nonprofit B2B- it helps other businesses get up and running with consulting advice, seminars, and more. The SBDC at UNF Facebook Page is full of that advice, as well as customer success stories, which is a soft kind of marketing that's very Facebook-friendly.
21. Let fans know what clients are doing
If you've recently worked with a client who has seen some great success, ask them if it's OK to feature that success on Facebook.
22. Announce events
Facebook can also be an effective place to promote your latest events and link to the event's registration page. Need an event management tool? Event Marketing from Constant Contact can integrate with Facebook and offer a great way to manage RSVPs.
23. Post helpful news articles & tips
If you come across an industry-related news story or just an article with valuable tips, don't forget to share that with fans, too. If you do this consistently, your Facebook Page can become a fan's most reliable source for industry information.
24. Share your email newsletters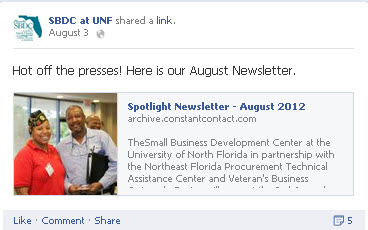 Constant Contact's simple share feature makes it easy to share your email marketing newsletters on social networks. That can broaden the newsletter's reach and show fans why they may want to sign up for your email list.
25. Offer a trial demo to fans
SpeechGear develops enterprise-level software that translates languages in real-time. On Facebook, the company tried offering a free trial of  their software.
"We increased our leads by ten times the normal amount and got about 2,000 new email subscribers," says CEO Richard Palmquist.
How does your B2B use Facebook to improve brand awareness? Share your advice below!
Curious about why people aren't engaging on your Facebook Page? Check out 11 Reasons People Aren't Responding to Your Facebook Page.