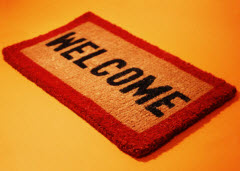 As 2011 comes to a close, many people are looking back on the year and trying to learn lessons from what we all experienced. The unfortunate truth is that 2011 was a challenging year, anywhere you looked. So my eyes — and the eyes of the entire team here at Constant Contact — are firmly on the future, and the year ahead.
We head into 2012 with a fresh optimism for ourselves, for our country, for our world, and especially, for small businesses everywhere. That's because, from the perspective of the small business or the small business marketer, 2012 should be a year of opportunity.
It's a very exciting time to be a marketer. Small businesses and organizations have the chance to reach new people, and to create a new level of intimacy and interaction. We can target our efforts in a way we never could before.  We're reaching those people with whom we already share a connection.
Tools like social media make all this possible. Thanks to social, we can now use our very best asset — our loyal customer base — to drive new business and reach new customers. And with everything we do, we get to see immediately how it resonates. This creates a great opportunity to do things faster and even better.
2011 was the year we did a lot of experimentation with social, to figure out how it all works. Now, 2012 will be the year it becomes real.
This year, we'll start to see social media have a meaningful, measurable impact on the business. Social media marketing is going to include action-oriented calls-to-action — not just be centered around conversations — so businesses and organizations can see actual results from their customer, client, and member interactions. And it won't matter whether these people are at home or on the go, on a desktop or a mobile device: Social media will create a brand experience that transcends boundaries and devices. Constant Contact will be working hard to make this a reality, and I know our entire industry will be working together to do it too.
I think our small business customers will be delighted to find that their customers are willing to advocate on their behalf on social channels. And that will give our customers the ability to reach new prospects through the social networks of their existing customers. That's why I think 2012 is going to be a year of renewed opportunity and growth for small businesses, enabled largely by social media.
As the calendar changes to a new year, I wish you and yours the very best for a prosperous and successful 2012. And I look forward to hearing from you, on social media channels and in other ways, so I can learn how things are improving for you and your business or organization.