We know one of the biggest challenges of doing email marketing, while running a small business, is finding the time to stay in touch with your email contacts.
That's why we're constantly looking for new ways to make doing your email marketing simpler and easier than ever before.
Here's a look at some of the recent improvements we've introduced for our email automation tools.
New features: Birthday and Anniversary Emails
Our Birthday Emails and Anniversary Emails make it easy to schedule automated emails to communicate with contacts on or before their birthday or another important annual milestone.

Birthday Emails
Build loyalty with your contacts and keep them engaged with your business or organization by sending a birthday greeting or promotion that makes each contact feel important.
Schedule a birthday email to trigger automatically on or up to 14 days before a contact's birthday, offering them a discount or birthday greeting to acknowledge their special day.
Anniversary Emails
Use our new anniversary trigger to celebrate or acknowledge an annual milestone for your contacts, such as the date a contact joined your email list or a membership renewal. Once setup, these messages will send automatically on the specific dates you've set for these contacts.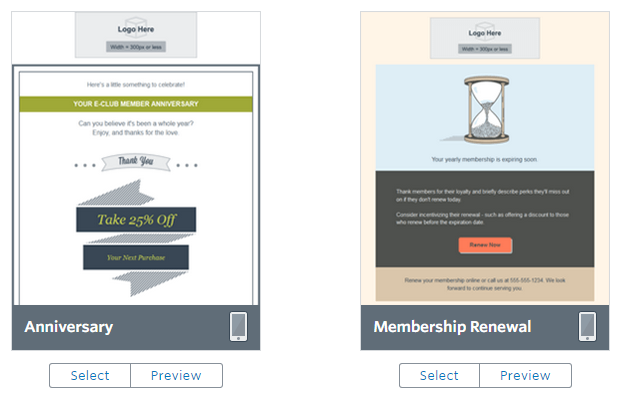 Schedule an anniversary email to trigger automatically on or up to 14 days before a contact's annual milestone.
Visit our Resources page for tips on creating a birthday or anniversary email.
Autoresponder
With Autoresponder, you can increase engagement with your contacts by delivering personalized, timely, and relevant messages — best of all, once set up, it all happens on autopilot. We have some great updates to help you be more successful with your autoresponder series.
And, we've moved again! Now it's even easier to find us under 'Automate Your Email' on the campaign picker.
Updates include:
Immediate delivery

Keep contacts engaged with your business or organization by scheduling your first autoresponder email to be delivered immediately after they sign up for or are added to your list. Reach your contacts when their interest is at its highest.
More delivery options per email

Continue to engage your contacts with the right message at the right time by scheduling emails to be delivered at relevant intervals throughout your series. You can schedule emails to be delivered within hours, days, or weeks apart from each other.
Customized delivery windows for a series

Increase your engagement (and open and click rates) by scheduling your series to send when you know your contacts are most likely to engage with and read your emails. Control which days and/or hours within each day that your autoresponder series will run. For example: schedule your series to be delivered only on Mondays, Tuesday, and Wednesdays from 9am-6pm.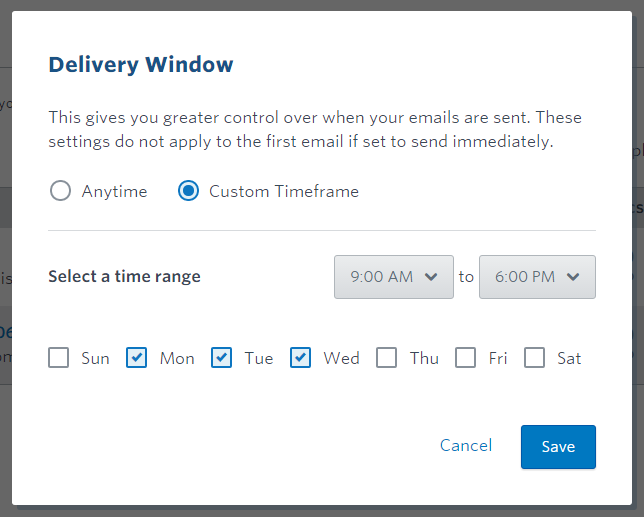 Pause a series

Now you can easily make changes to your content without impacting the delivery or experience for each contact. When you edit an email in an active series it places the series in a paused status. Once you're done editing, the series will resume and pick up where it left off for each contact.

'Add Another' email feature

Save time and keep a consistent design and layout for all emails in your series by copying the first autoresponder email in your series. This allows you to easily create multiple emails in one session.
Visit our Resources page for tips on creating your next autoresponder series.
Welcome Email
While your welcome email does not technically live with your automation campaigns, we added some great functionality that will allow you to have a more streamlined autoresponder series. You can now turn your welcome email off (or back on), so you can use your autoresponder series as a welcome series for your contacts so they don't receive duplicate welcome emails from you.
Go to My Account > My Settings > Welcome Email Settings to make this change in your account.
Log in to your Constant Contact account to try these automation features today.